Managing multiple Pinterest accounts can be challenging, and make some uncomfortable mistakes, such as publishing the wrong pin in the wrong account.
You know what we're talking about, right?
Pinterest Tips for Managing Multiple Accounts
Managing different social media profiles can be a headache.
You have to control which network you upload each content to, the comments you reply to, etc.
Is there a way to manage these accounts effectively? In this article, we share some Pinterest tips that will help you improve the way you work with multiple profiles.
Organize the content
One of the most important premises is that you have your content well organized on your work computer.
Photographs, templates, designs, videos, plans… whatever material you work with on each social network, it is key to have it organized in folders or documents.
This will make it easier for you to find content easily and quickly, while saving time every day.
Use online applications
Regarding the organization of content, we recommend that you use online storage applications in addition to having everything stored on your computer.
Google Drive or Dropbox, among others, allow you to save files in the cloud to access them needed. In addition, with Drive, the changes you make to a document or file can be reviewed online by both your teammates and your clients.
Remember to have the applications downloaded on your mobile phone as well so you can access them anywhere, anytime.
Plan the content
One way to successfully manage multiple Pinterest accounts is to plan what content to post next.
With the help of an Excel page, prepare your content strategy for each account with the copy you will add, the multimedia element, or the hashtags.
When you want to publish, you only have to copy and paste the content to the corresponding profile.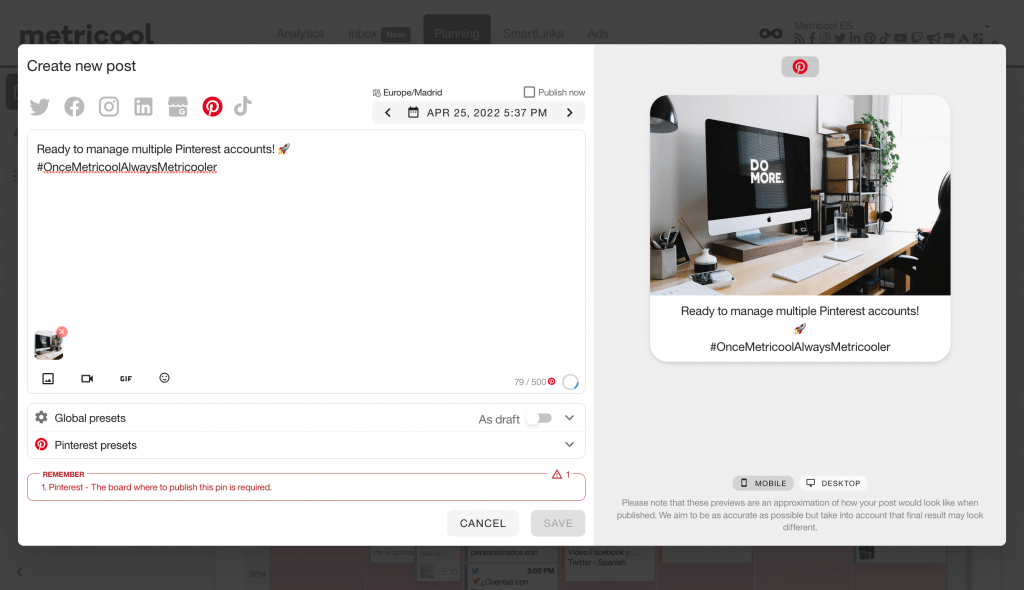 Use social media tools
Inspector Gadget would not be the same without so many "gadgets".
As a social media manager, you need the best tools to manage multiple Pinterest accounts. Today I present to you Metricool, the Swiss army knife with which you can collect and analyze your Pinterest analytics. Metricool is not limited to Pinterest, it also includes other social networks such as Twitter, Facebook, Instagram and TikTok.
What can you do with Pinterest and Metricool?
With Metricool, you can schedule your Pinterest pins, choose the time and date of publication, and add them to the board you want. You even can create a new board from the platform when you go to upload the pin if you need to.
Before scheduling, Metricool shows you a preview of your posts. This way, you can have a complete vision of how your pin will look.
The results you have obtained with your pins and all the information regarding the metrics of each profile.
Analyze how your content has performed based on impressions, engagement, and interactions.
How many times have you started the month by collecting data by hand and then preparing a report?
With Metricool, you have your Pinterest report complete and fully customizable with your client's logo or your brand in just a few minutes.
In one click, your report is ready, and you can continue working to grow on Pinterest.
All set to successfully manage multiple Pinterest accounts. If you want to know what Metricool help you on social media: Metricool Mega Tutorial.