Do you upload a lot of reels to your Facebook page? Then you need to know this: you can schedule Facebook reels with Metricool and with Creator Studio.
We will tell you how to do it in this post!
Schedule Facebook Reels with Metricool
With Metricool you can plan your reels at the time and date you want and the tool will publish it automatically on your page. No need for a third step, you can just check to see that your reel is published.
How do you do it? Follow these steps:
Sign up for FREE HERE at Metricool. If you have an account already, go ahead and log in.
Connect your Facebook account with Metricool if you haven't done so already.
Go to the Planner and within the calendar, choose the best time for your reel to come out or click 'Create a post.'
Check the Facebook box in the drop-down menu and select 'Reel.'
Choose the video you want to upload (in vertical format with a duration between 4 and 60 seconds.)
Select the date and time, if you haven't already, and click 'Save.'
Your Facebook reel is done and programmed with Metricool.
WIthin the tool you can:
✅ Schedule your content to Facebook or select to autopublish it, instantly.
✅ Know the best times to publish your content and get the most out of it.
✅ Analyze the metrics of your work on Facebook.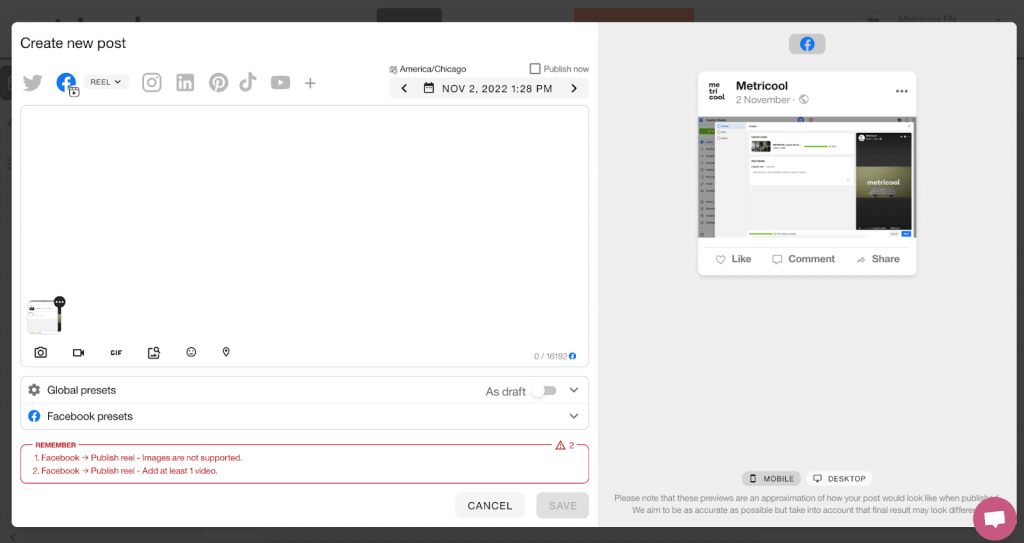 Schedule Facebook Reels with Creator Studio
If you usually work with Creator Studio, Facebook's tool for scheduling content on Facebook and Instagram, you can also plan your reels.
Follow these steps to do so!
Enter the 'Creator Studio' platform. You'll need to be logged into Facebook before connecting your pages.
Click on Facebook > 'Create new', the green button on the left and 'Create Reel.'
Upload the video file and write the copy that will accompany your reel.
In the next step, you can edit the size and shorten the video if it is longer than 60 seconds.
Finally, in 'Share' choose the option to 'Schedule' and select the date and time it will be published.
You're all done! You can now program your reel in Creator Studio or publish it right away if you want.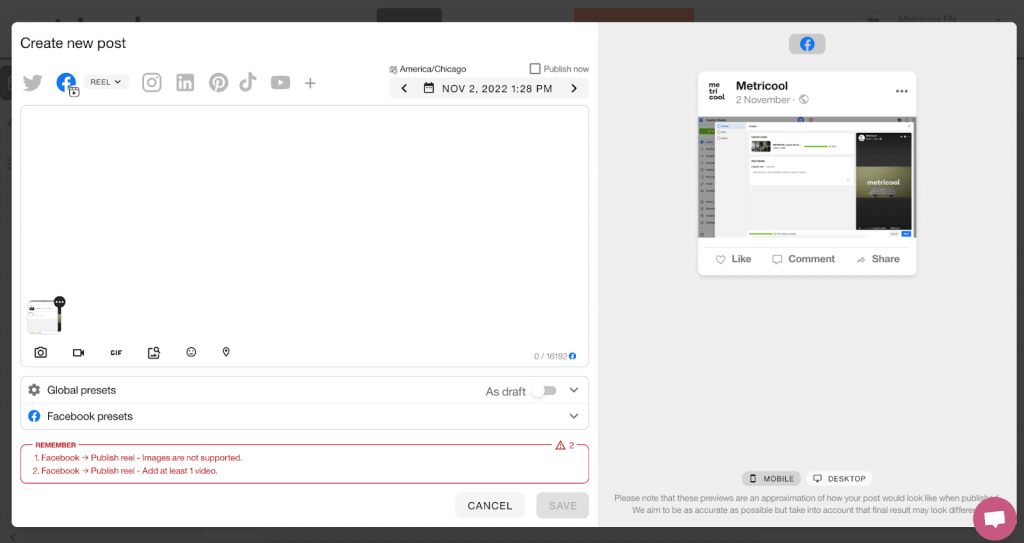 So far, that's all we have for this mini guide on scheduling Facebook reels. Start now and save time in your day to day as a social media manager.
Want to know more about Metricool? I will leave you with this.