Instagram Reels are indeed a great way to share light-hearted and fun content on your brand or company profile.
It's also true that this type of content requires creating and editing efforts. Also, you need to publish them and do so at the best time when your community has more possibilities to see the content. In other words, you can't miss out on anything.

All of this leads to the big question:
How can you improve managing your Instagram Reels without affecting the rest of your daily activities?
One solution is to schedule your Reels with Metricool, and today we'll tell you how to do it step by step.
How to program Reels with Metricool
If having all your Reels content on Instagram ready to publish takes too much time, it's the moment to resort to a planning tool to ease the process.
With Metricool, you can plan the content ahead of time so you can focus on the rest of your daily tasks.
It will help you manage and optimize your work time.
Where do we start?
At the moment, Reels can only be uploaded through the Instagram app on your mobile. Therefore, to program this content, you will first have to record it with your mobile phone and store it on your computer or mobile device.
Before programming any content on Metricool, you must have an account on this digital tool. The feature of scheduling Reels is available on free and paid accounts. With the free plan, you can schedule up to 50 posts per month on any social network.
If you already have one, log in.
Do you already have several Reels recorded that you'd like to schedule? Let's plan all these posts that took weeks worth of work and keep everything organized and under control.
Open the Planning dashboard
Go to Metricool and click on 'Planning.' By selecting the best hours on Instagram, the calendar will display various pink hues. The most intense color shows the time bands where more followers are connected. These are your best hours, based on the activity of your community.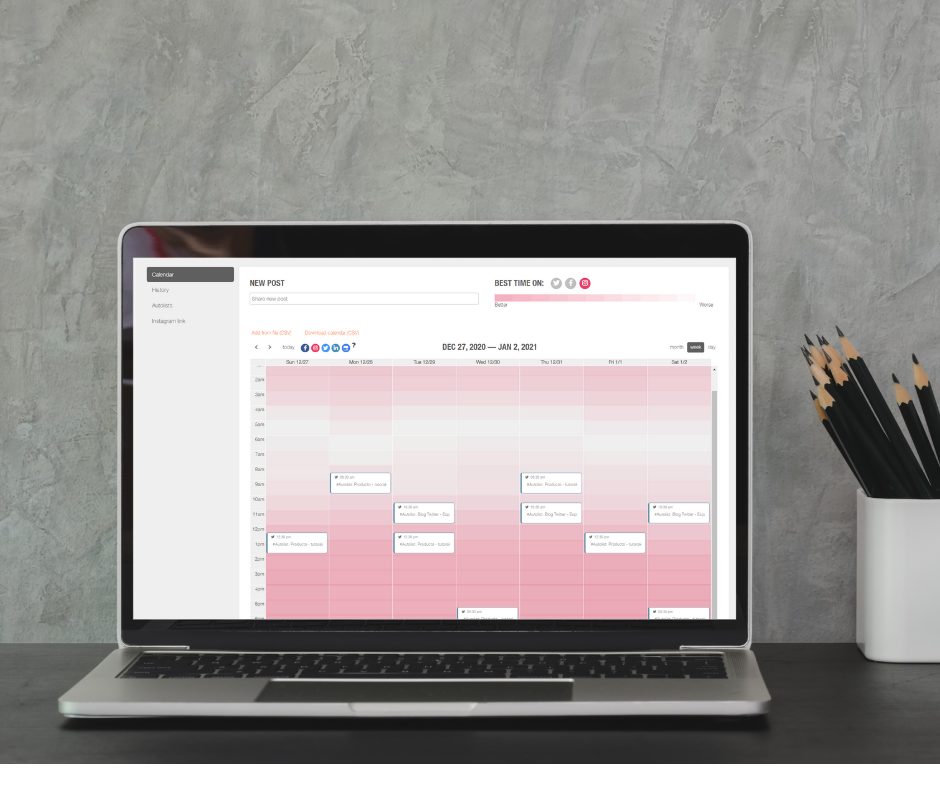 Create a new post
Now follow the steps as if you were going to schedule any content, tap on 'New Post.'
Select Instagram
Click on the Instagram icon, select the time and day, the text, and the reel's audiovisual content.
You can edit the content as many times as you want.
IMPORTANT – Turn off the "auto" button
Toggle the 'Auto' button off so this post won't publish automatically on your Instagram feed. Remember that Instagram does not allow to automate the process of Reels. It only allows the auto-publication of a single image or video in the feed.

Therefore, if you don't turn off the auto button, the post would automatically appear on your Instagram feed.
Select how to receive notifications
Set up how you want to receive the content when the time to publish comes. You can do so by clicking on the "Notifications" button located at the top right of the calendar screen.
It can be via email, where you will receive the video and text you previously scheduled, or via push notification, as long as you have the Metricool app on your mobile device. With this last option, you'll only have to paste the text saved on your clipboard and select the video saved on your phone's gallery. It's that easy!
Save your programmed Reels
Click Save, and now you just have to wait for the notification the day and time you've chosen.
Some tips to get the most out of Reels scheduling with Metricool
Create multiple videos in Reels format in one go
With this feature, you will speed up the publication process and avoid running out of post ideas.
Add the copy to the post scheduled
Even though you have to publish the post manually, it is helpful that you have the copies of your post prepared beforehand.
Metricool will take care of sending it to you along with the file and so that you only have to paste it, saving your priceless time.
Create a cover photo for the Reels.
Before uploading the Reels, you can choose a video fragment as the cover or select an image on the Reel.
With Metricool, you can also add the cover image that you will use in your Reels to the attached files: so you can have everything ready to publish on your profile.
Now you know how to schedule your Instagram Reels with Metricool.
Prepare and plan out the videos, copy, and cover image. Manage your time wisely and keep the quality of your posts high.
Do you have any questions? We'll read your comments.