New to Twitch and don't know which channels to follow other than video games?
Well, we're going to surprise you because, luckily, Twitch has an extensive catalog of IRL categories, also known as "In Real Life". Meaning they have nothing to do with video games. In these categories, you'll find loads of streamers to entertain you.
Which Twitch channels do we recommend? Here's a list of Twitch recommended channels to follow by IRL category on this streaming platform.
Hit play and let's get started!
Just Chatting
One of the quintessential Twitch categories. You've come here to chat, debate and share your opinions, respectfully of course, or the moderators will block you.
If you're interested in a topic and want to share it with the rest of the chat, this is the place for you.
Which Just Chatting channel do we recommend?
Who is it?
A US-based streamer who is very popular on Twitch, where he has over 1.5 million followers. He's known for hosting several interviews and dating shows on his Twitch channel.
What you'll find on this Twitch channel
The most well-known content is "Love or Host", a dating show with viewer participation during the livestream.
This program often gets over a million views.
Music
Love music and want to watch it being made? Discover everything Twitch has to offer in music in this category: live DJs, content creators with musical instruments or learn music while streaming.
Forget about Spotify, music on Twitch is "a whole other world".
Which Music channel do we recommend?
Who is it?
Kevin Crown is a professional DJ and fitness enthusiast. He has a YouTube channel where he shares content and is also on Instagram and SoundCloud.
What you'll find on this Twitch channel
Music, creations, interviews, a well-rounded channel where you'll always find a reason to stick around. Good vibes are the norm here.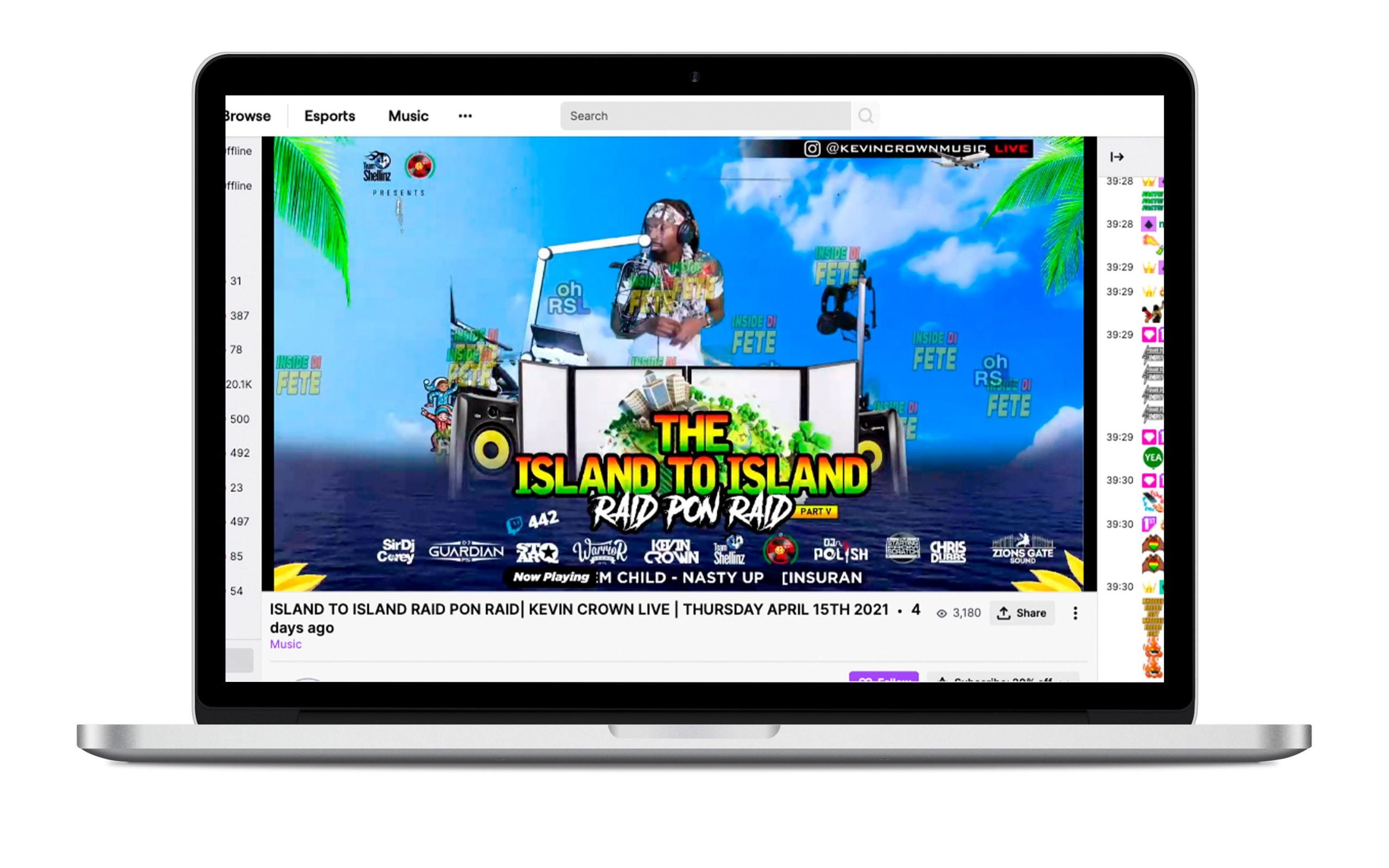 Talk Shows & Podcasts
Imagine watching your favorite podcast being recorded live! That's what you get in this Twitch category, where streamers share their podcast episodes as they record them and let followers participate.
Which Talk Shows & Podcasts channel do we recommend?
Who is it?
An American morning show streamed live and on the Audacy app. And on US radio stations, of course.
What you'll find on this Twitch channel
The live show, as they record and broadcast it on the radio. Since they're on Twitch, you can interact with the hosts live in the chat.
Art
The Art category is for those Twitch users who are passionate about drawing and everything related to the world of art.
Live drawing, painting, and sculpting. Twitch has quite the artistic flair.
Which is our Twitch recommended channel for Art?
Who is it?
Bekka is a multifaceted artist and tattoo artist living in Berlin.
What you'll find on this Twitch channel
Her live streams show how she works in various mediums: watercolors, charcoals, ink, and ballpoint. She has two cameras for her live streams, one on her and one on her work in progress. A great way to learn about art!
Sports
The Sports category is perfect for chatting and getting the latest on sports. Many sports media outlets have joined Twitch streaming: from live game commentary to the same show you see on TV.
There's room for all sports here, from squash to soccer, basketball, or football.
Which Sports channel do we recommend?
Who is it?
Jimmy Conrad is a former professional soccer player who spent his whole career in the US league.
He's become very popular on Twitch thanks to his easy-going livestream and experience as a professional.
What you'll find on this Twitch channel
Soccer analysis, oddities, and interviews. Soccer content for those who love this sport, giving them a place to participate and belong to a community.
Travel & Outdoors
A category for armchair travelers on Twitch? Where do I sign up?
On Travel & Outdoors, you'll find content on something nearly everyone is passionate about: traveling. You can discover countries and whole continents online, ask questions and interact with the community.
Which Travel & Outdoors channel do we recommend?
Who is it?
SoFloWildlife is the channel and Drew is the host and person on the other side of the screen. He is a marine biologist and lifelong Southern Floridian who loves fishing and local ecosystems.
What you'll find on this Twitch channel
Stories, adventures, oddities… Drew's wild and free life, on Twitch. If you're passionate about nature and biology, this is the best Twitch recommended channel for you.
ASMR
ASMR stands for Autonomous Sensory Meridian Response, a pleasant, relaxing sensation from repetitive sounds, whispers or movements.
This category helps you find your moment of Zen through the tingling sensation of ASMR. There are loads of Twitch channels that offer these sessions. Have a look around and choose the one that works for you.
Which ASMR channel do we recommend?
Who is it?
Two passions as different as barber and masseuse? That's what you'll find on this channel, with its relaxation techniques, massages and barbering, that now has over 15,000 followers on Twitch.
What you'll find on this Twitch channel
Livestreaming 24 hours a day showing how to apply massage techniques for all sorts of day-to-day situations: sleeping, relaxing or even studying. All through ASMR.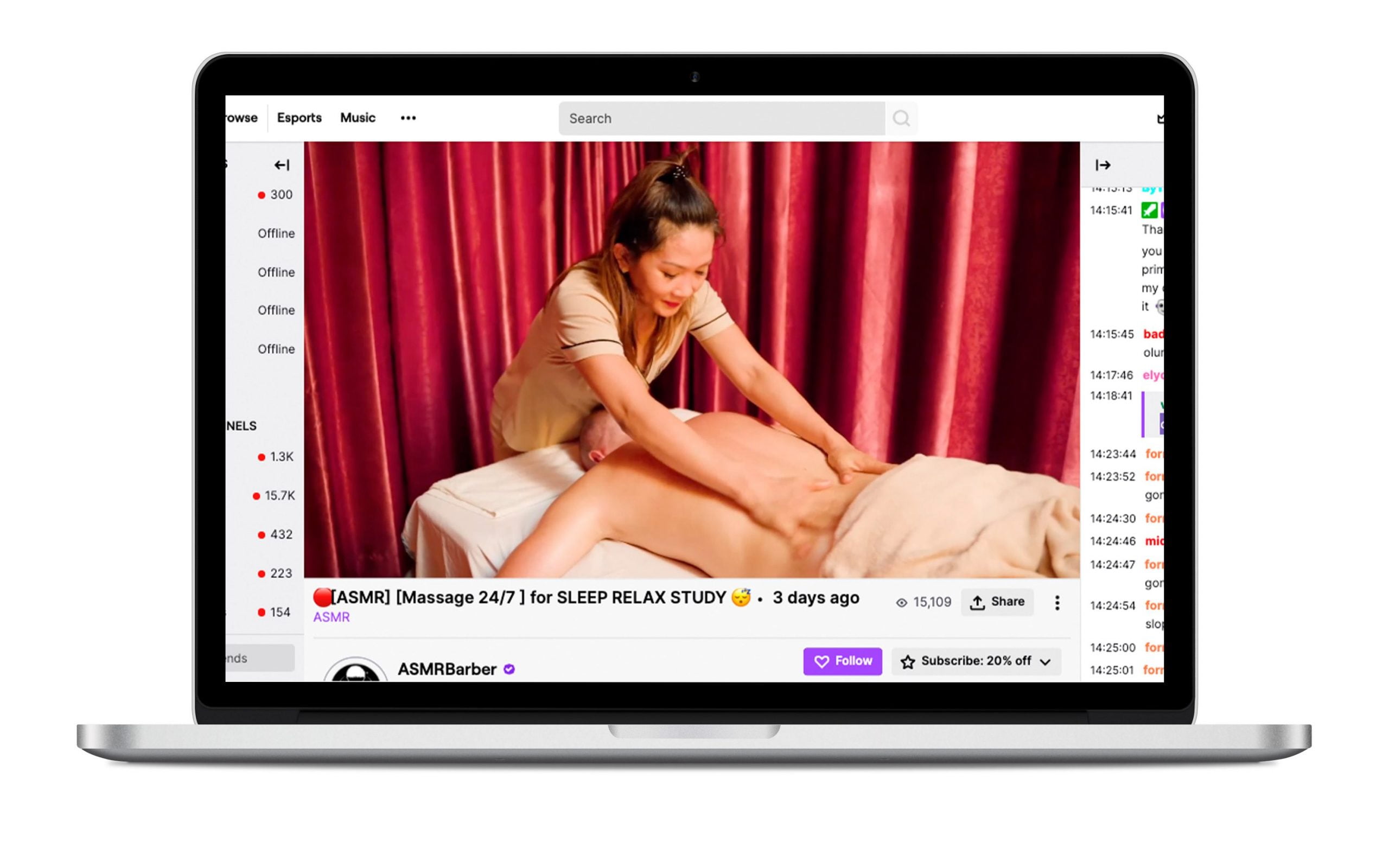 Science & Technology
If you love science and technology, Twitch has a spot just for you: web programming, design, video game development, etc.
You'll feel like you're in Tony Stark's workspace.
Which Science & Tech channel do we recommend?
Who is it?
Newegg is a computer shop established in 2001 that sells computer parts and helps support the PC-Building movement.
Since then, the company has become the top electronics retailer in North America, with a global reach.
What you'll find on this Twitch channel
If you love technology and computers, Newegg is of the one of the best Twitch recommended channels for you.
Most of their streams are about building computers, showing how to put together a PC part by part, answering questions, and sharing doubts in the chat.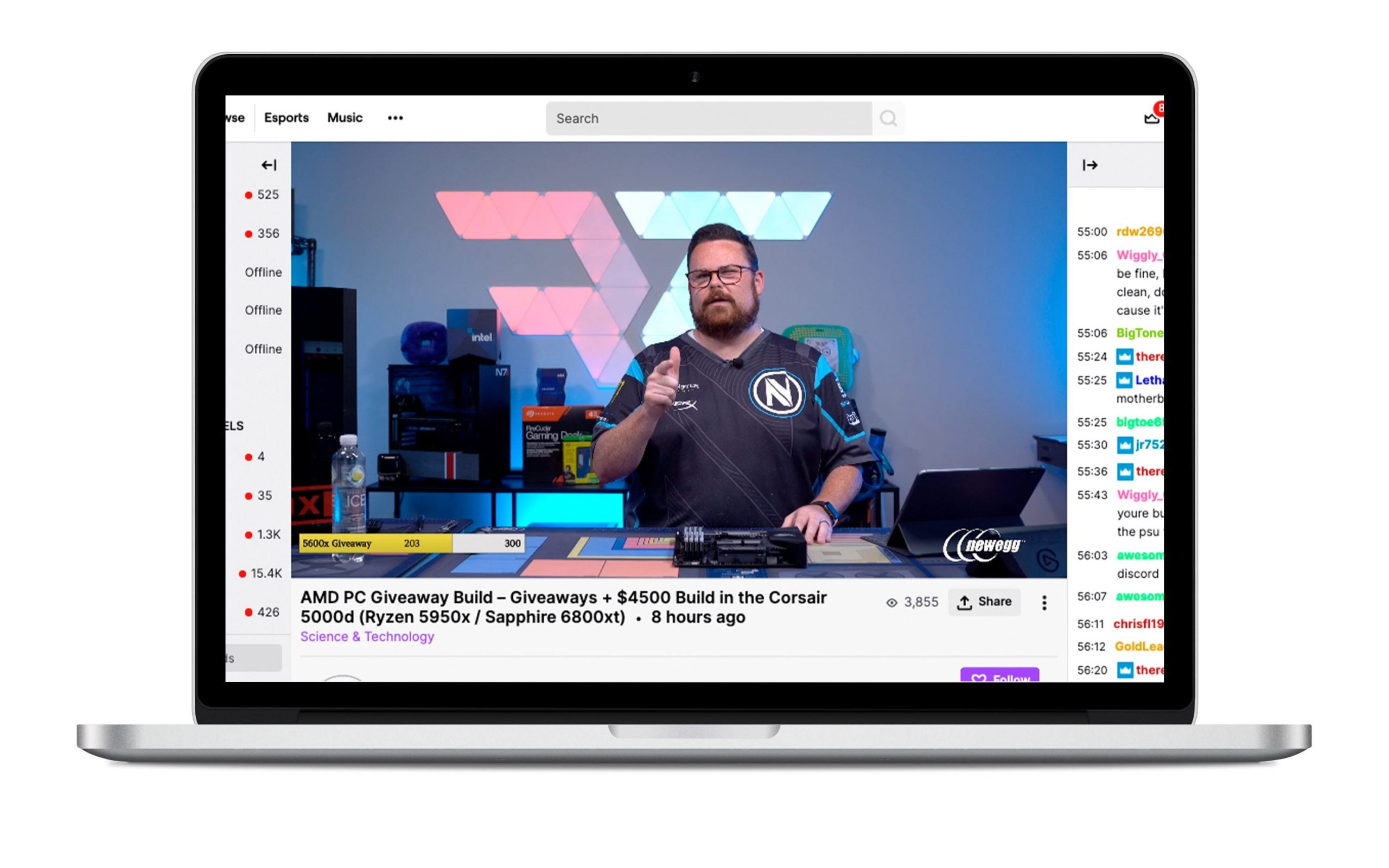 Food & Drink
Twitch has a Food & Drink category, too? Yes, of course. So, get ready for your mouth to water and to learn cool recipes you can easily make yourself.
Enjoy this fun, different content that can help you become a pro in the kitchen.
Recipes, cooking secrets… the Twitch kitchen is open 24/7.
Which Food & Drink channel do we recommend?
Who is it?
John Reed is a professional chef who decided to become a streamer and content creator to share his knowledge of the food industry and his culinary skills.
What you'll find on this Twitch channel
If you want to see how John prepares recipes on his Twitch channel or shares his thoughts on restaurants, this is our Twitch recommended channel for you.
Here you'll always get ideas on what to make for dinner.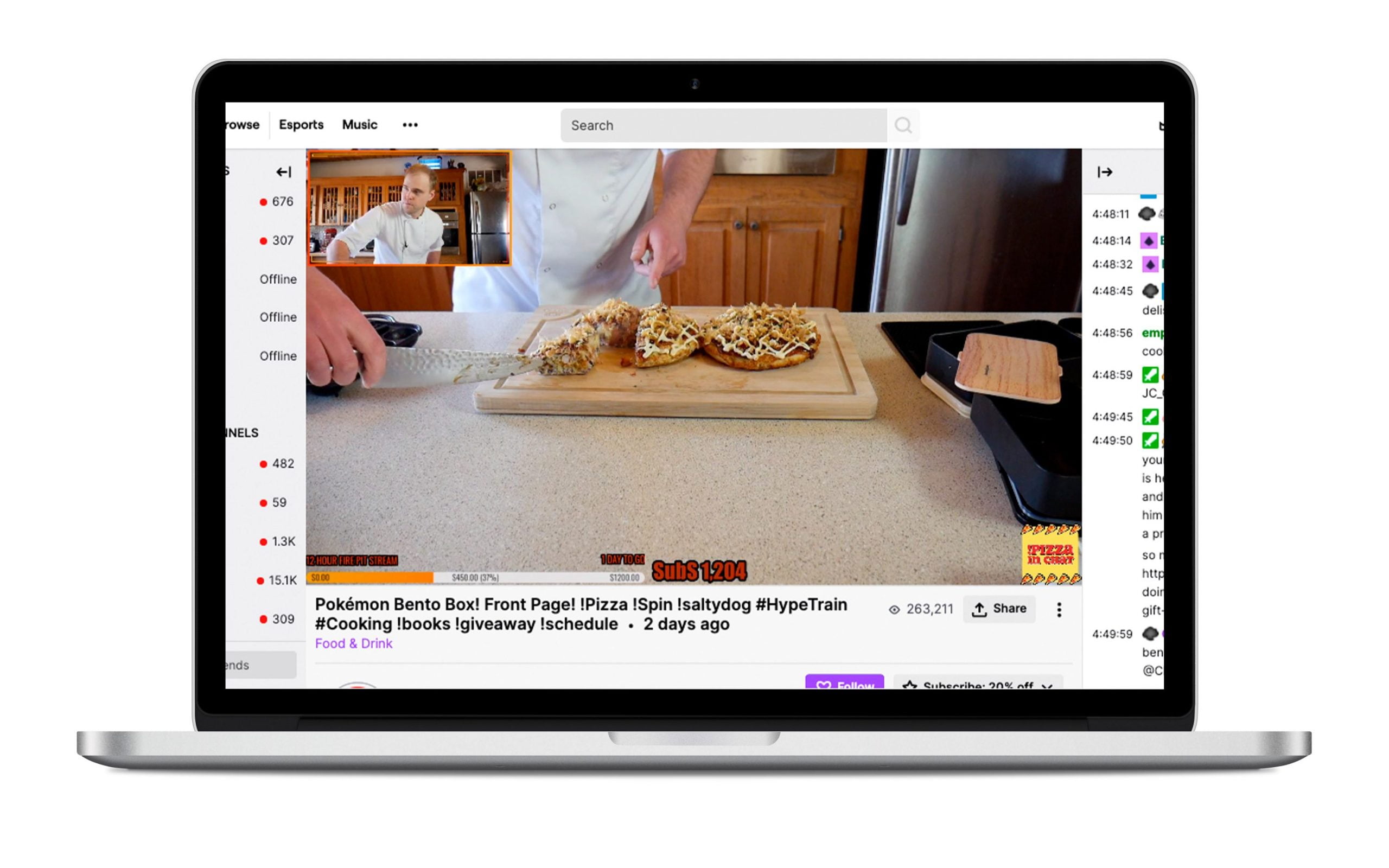 Makers & Crafting
If you're a crafting freak and always want to learn more, this is your spot.
The Makers & Crafting category is for anyone who loves to put things together at home, but also to learn about a field that has loads of secrets. From painting to crafting and 3D models.
Which Makers & Crafting channel do we recommend?
Who is it?
Skunky works with fur, making accessories and stuffed animals. She got into streaming so her Twitch viewers and followers could see how she creates these items.
What you'll find on this Twitch channel
When you first open her stream, you'll be surprised by the three shots she shows: one of her hands, showing how she works; a close-up of her and a third shot of her dog Midna.
Each streaming shows you how she creates her fursuits, all by hand, while letting you have fun with an excellent community.
Special Events
This Twitch category is for hosting special events that don't really fit anywhere else.
It's a way to highlight an event and give it a place on the platform. This can be anything from a product launch to a sporting event or an online tournament.
Which Special Events channel do we recommend?
Who is it?
MFTWmedia is "Made for the World", a media outlet that covers current events, community engagement and entertainment via multimedia content on Twitch.
What you'll find on this Twitch channel
MFTWmedia covers special events through informative content: protests, interviews, sporting events.
A channel to experience these events live.
Fitness & Health
If you like sports and working out but don't know where to start, our Twitch channel recommendation should fall into this category.
In Fitness & Health you'll find a wide variety of channels to get fit on Twitch: from Zumba to beginners workouts and tips for staying in shape.
Which Fitness & Health channel do we recommend?
Who is it?
FitForPurpose is personal trainer Jeff and Twitch streamer Grace. Together, they created this channel focusing on health and staying in shape.
What you'll find on this Twitch channel
FitForPurpose is the perfect Twitch channel for your workouts: different methods, like Tabata, weight training, bodyweight exercises or HIIT.
Plus, it's not all exercising. You'll also get streaming with tips, nutrition, etc.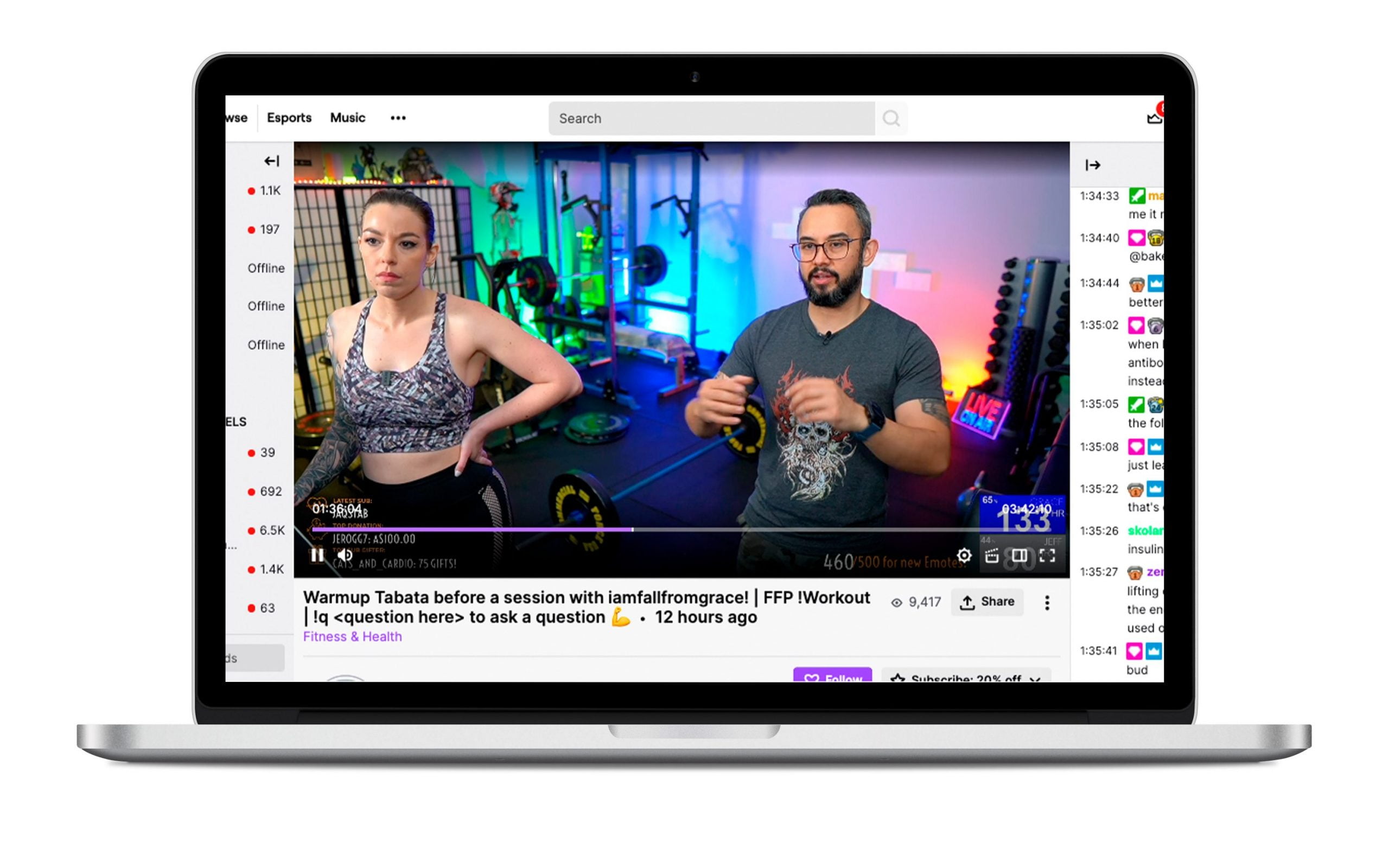 Politics
Twitch offers this category for live debates and shows. They all have a political edge and each channel is free to express its own opinions, without depending on the media outlet they represent.
Which Politics channel do we recommend?
Who is it?
Behind the 27Dollars channel, we have David, a Scot who has been following US politics for the past 6 years. On his channel, he does general US political commentary.
What you'll find on this Twitch channel
His livestreams offer a look into US politics from David's point of view, always with a close eye on current events and news of what is happening in the United States.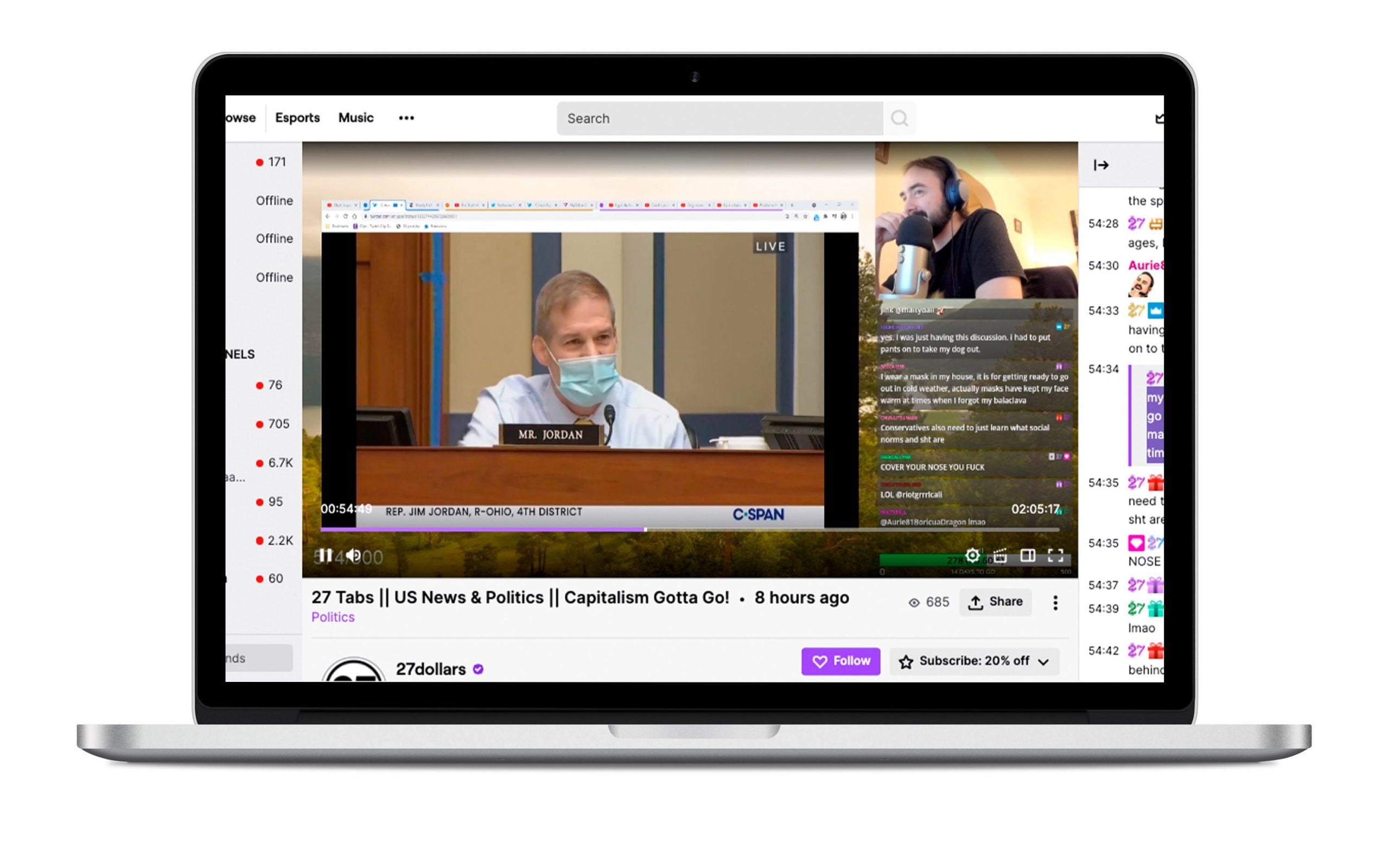 Beauty & Body Art
Make-up, beauty, and body art are three disciplines that have been growing steadily over the years: social media is full of make-up videos, Instagram has beauty salon accounts that are full of nail work and much more.
Twitch didn't want to be left out, so for this type of streamers and viewers they've created the Beauty & Body Art category.
Which is our Twitch recommended channel for Beauty & Body Art?
Who is it?
Richii or Ali, you can choose what to call her, is a streamer that combines her two passions perfectly: music and make-up.
What you'll find on this Twitch channel
A different way to have fun while watching Richii play various instruments, including the guitar and piano, and make-up sessions.
A casual channel where you'll feel like part of a great community.
And this brings us to the end of our Twitch recommended channels in IRL categories, you know, "In Real Life", not video games.
What are the must-haves in your "'following'" channels? Let us know!.