Facebook has its own advertising platform which allows promoting content published on a Facebook page. Thus, online stores, companies or apps can advertise and only pay for the clicks received.
Why you should advertise on Facebook
Facebook ads bring many advantages that will help you to promote your business. These are some of them:
➡️ Visibility and reach of your ads. Facebook is currently one the most popular social networks worldwide. This means that you will be able to reach the maximum number of people when you advertise your business through this platform.
➡️ Possibility of a detailed audience segmentation for your ads. Facebook knows its users very well. When you are creating your ads, you can decide which audience that your ads will focus on and the exact people that the ads will be shown to.
➡️ Affordable. You only pay for clicks received (PPC), that is, you exclusively pay for those users who show interest for your business and therefore, click the ad. 
How Facebook Ads work
If you want to create ads on Facebook you must access Facebook Business Manager to manage your Facebook ads. This is a tool with great potential that lets you create multiple types of ads to be published on this popular network.
Facebook Ad Campaigns
Creating an ad campaign is more complex than it seems and you need to learn several advanced concepts such as segmentation, lookalike audience and Facebook Pixel.
If we get started with the main and basic concept, the structure of Facebook ad campaigns is as follow:
Campaign – Ad Group – Ads
All the ads have 3 levels and each of them is separated in a different section. It,s not possible to use the same ad for 2 different types of campaigns.
✅ Facebook Ad Campaigns
Ad campaigns are the bigger elements in the ad hierarchy on Facebook.
Each campaign must be related to a specific advertising objective. Facebook will let you choose from a window that will display before you start setting up your campaign.
These are the objectives that you will find before you get started with your campaign: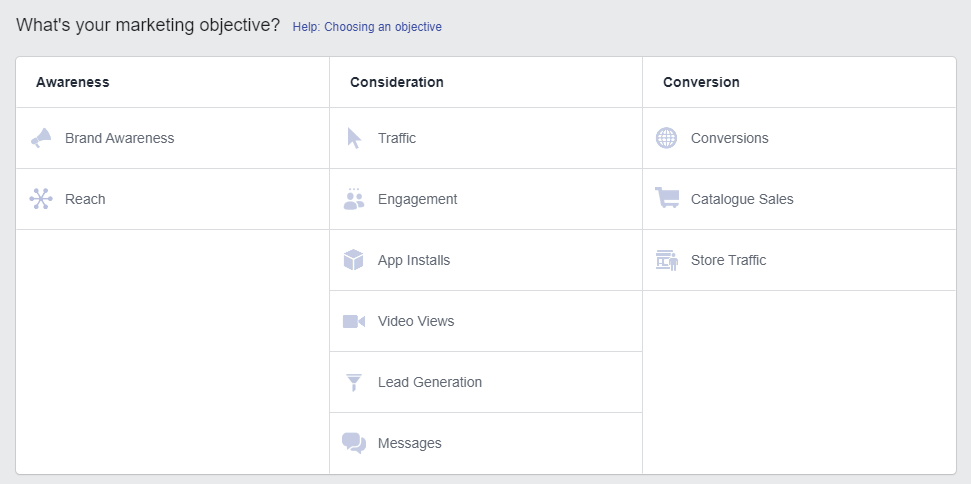 ✅ Facebook Ad Groups
Ad groups are used to design different strategies within the same campaign. Then you can compare them and choose the one with a higher performance.
Each ad group can contain multiple and different ads. They can have different formats, sizes, combinations, etc.
You must configure each group of ads that you create:
Target
Budget
Calendar
Geographic location
Placement (PC, mobile device, news feed, Instagram, Messenger…)
Ad optimization objective
✅ Facebook Ads
An ad is an advertising and graphic element that is meant to be shown to users.
In this section you must edit how you want your content to be displayed: Image, video, carousel…
💡 TIP

To optimize your campaigns, it,s crucial that you focus on your ideal audience. So run different tests to determine wich target works best on different ads.
What Facebook Ads are for: Examples
Ads on social media help companies and brands to introduce their business to a larger audience. If you are getting started in digital marketing, it's easy to understand that you are hesitant to dive into the online advertising world.
This is why in this last section I am showing you some practical examples to fully understand the possibilities that Facebook ads bring, the different strategies that you can create and how they can help your business.
Increase your sales
This is the main objective of online ads and they are the most popular on Facebook: ads with a call to action to encourage users to buy products or services.
Branding
The objective is to increase a businesses presence and visibility online and to build a brand image. In multiple occasions, the only objective for ads is to increase brand awareness and make sure users remember your brand thanks to ads, your logo or because they are simply attracted to your business.
Increase traffic
Drawing a lot of traffic to your website is very important for several reasons: SEO, Google ranking, social approval, reach other goals, …
Thanks to the low prices per click on each Facebook ad, this platform is very popular amongst users as a means of increasing traffic to their websites.
Capture new leads
These ads are focused on getting user contact information. The process is as follow:
When users click the ad as they are interested in the content, they will be driven to a landing page where they have to add their email address to receive more information or to allow the company to get in touch with them.
This is the way that companies get contacts (leads) to reinforce their marketing strategy and increase conversions.
As you have checked throughout this article about Facebook ads, this is a very useful tool for companies with a clear and well defined objective that want to improve their performance.
If you are still interested in learning more about this advertising platform from Facebook, you can read this thorough tutorial about how to do marketing on Facebook which will improve your strategy and help you get results…
Facebook Ads with Metricool
We have just reviewed what the Facebook advertising platform is and what it is for. Now, I will explain something that I am sure you will also be interested in. Especially, if you are just getting started in the Facebook advertising world.
Apart from managing your social networks, with Metricool you can manage and create your Facebook ads from scratch and also analyze their performance afterwards.
▶️ Create your ads through Metricool.
▶️ Manage the performance of your ad campaigns from Metricool.
A chart is available where you can see all your ad campaigns with their more relevant metrics.
If you consider after reviewing your campaigns that you can improve them or even delete them, you can take this action from Metricool.
▶️ Analyze the performance of your ad campaigns and download reports for better control.
And all of this process without leaving Metricool or entering Facebook Ads!
If you want to learn more about how Metricool works and learn how to manage your ads, try our tool for free.