Have someone ever told you to send an Instagram DM, and you didn't even know what it was?
DM means direct messaging on Instagram. Thus, the way you can communicate directly and privately with another user on Instagram.
It is the primary means of communication with your community to solve their questions or interact with them.
If you want to learn everything about what DM means on Instagram, you will find all the information about this feature in this post.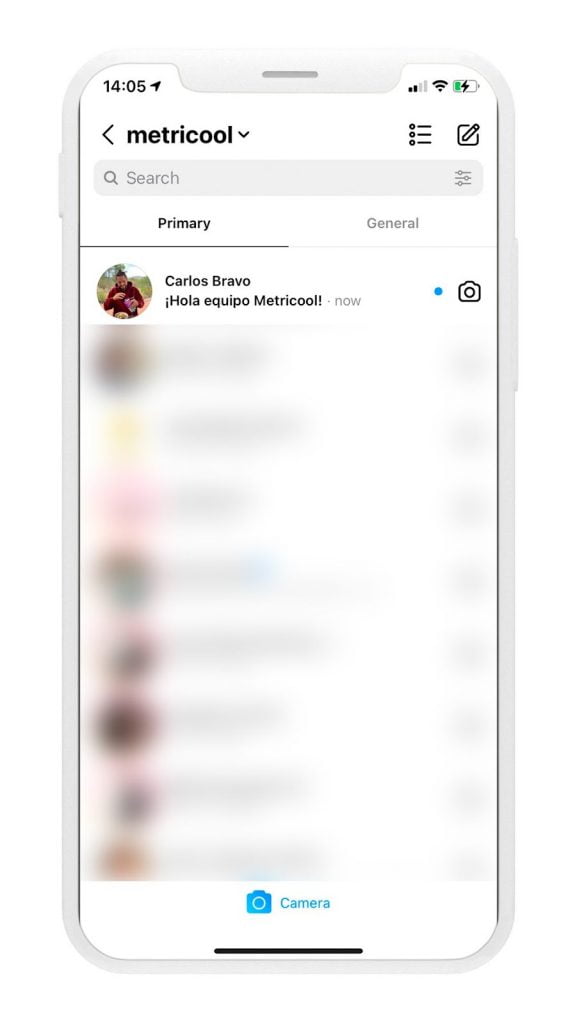 How to send a DM on Instagram
You have three methods on how to send an Instagram DM:
✅ From the message section
Direct messages are on the upper right side of the homepage, just when entering Instagram.
You can write a user's name in the search engine and open a private conversation from this section.
✅ From the user's profile
Another option is from the user's profile. On the main page of the user's profile, you can see the Message button below their bio.
Instagram automatically takes you to the private conversation area when you click on it.
✅ From a public story
If you want to start a conversation from scratch, break the ice by responding to a story that the user has posted.
You can write a message about her story or just react to it with an emoji. The user will receive a message in the direct section with your answer in both cases.
Characteristics of the DM on Instagram
Are you curious and want to know everything about DMs on Instagram?
We have prepared a list of the main features of Instagram private messaging that you need to know.
▶️ Notifications
Instagram will notify you if you have received a private message on your account. However, unless these notifications are turned on, you will not know if you have received a message until you open Instagram.
If you have a private message, you will see a number in red in the upper right, where the inbox is. This means that you have one or more private messages waiting for you.
On the other hand, if you receive a message from a user you don't know, the message will appear under the 'Requests' section. It won't display in the general inbox. You will have to accept this message request to reply.
▶️ Interactions
In this section of direct messages, you can interact with the user. Apart from replying to messages, you can like each message received.
▶️ Content
Instagram offers you a wide range of content possibilities in your private messaging.
In addition to the text message, you can send gifs, stickers, photos, videos, or reply with a picture taken at the moment, thanks to the camera option. Also, if you can't write at that moment, another option is via audio message.
As you can see, it has similar options to WhatsApp.
▶️ Automatic replies
If you have a business account where you sell or manage a service, you may have faced a frequent question that always needs the same answer.
With Instagram, you can create automatic responses through keywords. Type out a reply and assign it to a keyword. Then, when you write this word in the conversation, Instagram will automatically complete the response you created.
This option saves you time answering frequently asked questions.
▶️ Web version vs. the mobile app version
Instagram is an app and although it has a web version, it has certain limitations.
Some of them are:
The ability to mark a conversation as 'unread'. This option is helpful if you cannot answer at a specific time, mark it as unread so that the user does not think that you have ignored their message.
Multimedia content. You cannot send gifs, stickers, or audio notes from the web version, just photos or videos from the computer.
Multimedia responses. In the app, you can respond with a video recorded at the moment, a boomerang, or a photo. This option is not available in the browser version, even if your computer has a camera.
Inbox Metricool
With Inbox Metricool you can manage all your Instagram posts from a single platform. And yes, it is the same platform where you measure your content or programs in your networks.
From here you can resolve conversations, mark them as unread or review them all.
You also have the option to send a video, an image, gif or emojis of any kind. Just as if you were in the same social network.
Now you know what Instagram DM's are, how to send a private message on Instagram and the possibilities you have to interact with your community.
With all these options, we recommend that you always reply or react to the messages sent by your followers. It will help you reinforce your commitment to them and build a trusting relationship.
To succeed on Instagram first, you need to put in place a strategy for this social platform, and Metricool will help you along the way…
If you have any questions about what Instagram DM's are, or want to add some comments, we will be happy to hear what you have to say! 👇🏻