What's Quality Score? 
Quality Score is a rating that values the quality of your Google Ads.
The score ranges between 1 and 10 and measure the quality of your ads, keywords and landing pages.
This score normally applies once an ad campaign has been published for a while and has a direct effect on how well an ad will be positioned on a search result page. Google needs 3 days to gather enough data to rate an ad.
The higher the score, the better an ad will position and the lower the cost per click will be. On the other hand, if your group ads have a low quality score, they will be displayed less and your CPC ad will be more expensive.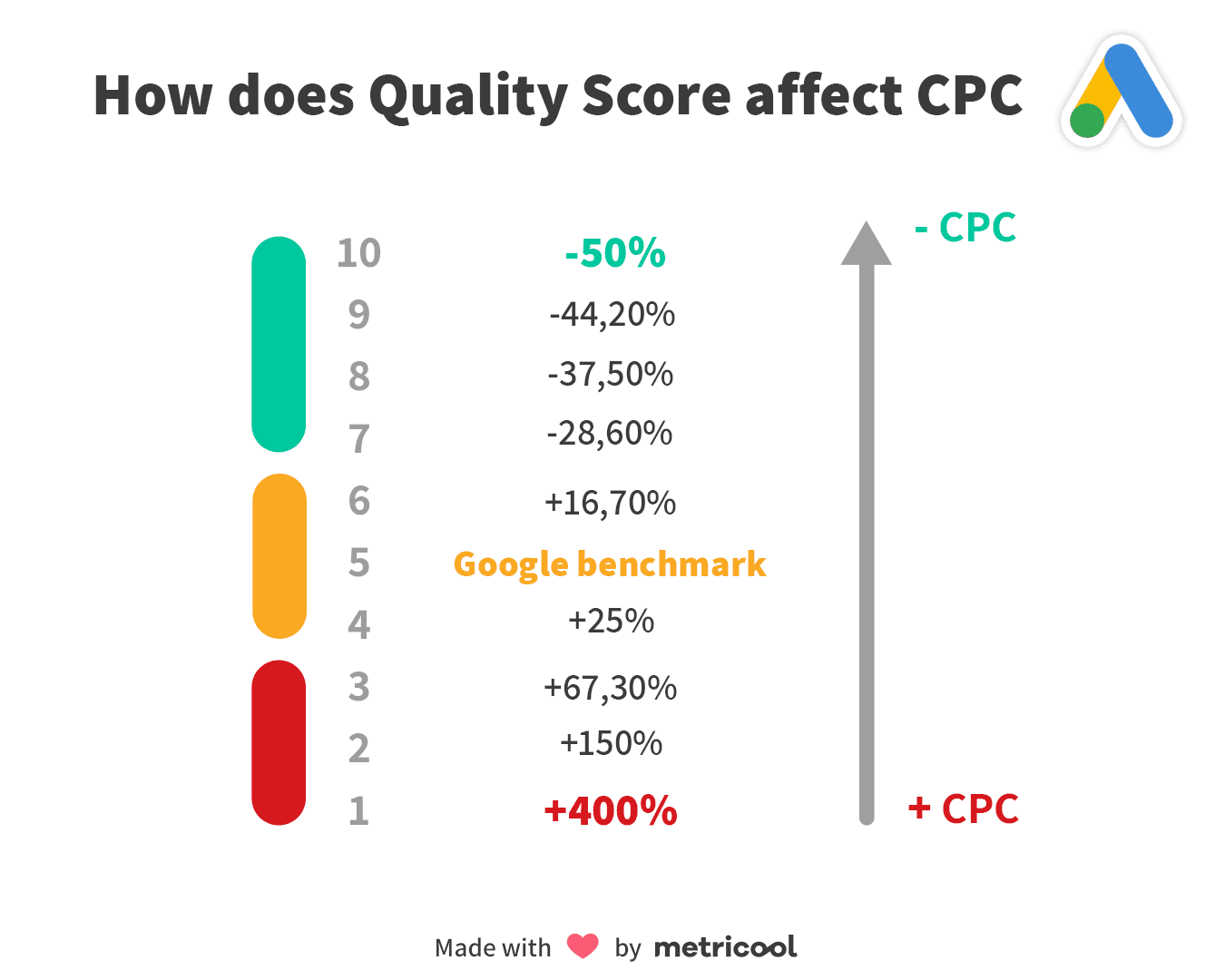 ⚠️ Quality Score doesn't measure the performance of an ad unlike the conversion costs and conversion rate
Why a high-quality score is so important
Quality Score, along with the length of the ads and bids, determines the ads ranking. After a bid, the Quality Score is the most important factor for the ad rank.
These are the direct consequences when your Quality score increases:
The cost per click will decrease
The ad position will improve
⚠️ However, you should keep in mind that having a high-quality score doesn't mean that your earnings will increase.
How Google Ads calculates the Quality Score: Factors 
This Google rating is based on three factors:
✅ The expected click-through rate: Based on the number of clicks history of an ad in contrast with the competitors.
✅ The ad relevance: it measures how important and ad is in relation to users' searches.
✅ Landing page experience: It values the experience of a user when visiting a landing page.
Google will value each of these three factors with an individualized quality score, then it will calculate the general quality score per keyword based on these three previous factors.
According to an AdAlysis study, Google gives more importance to the landing page (39%) and the expected CTR (39%) than the relevance of an ad (22%).
How to increase your Quality Score 
If you are seeking to improve the quality of your ad campaigns so they become more profitable, follow these tips:
Make sure your landing page provides a good experience to users. Invest time in it to reduce the bounce rate and increase the number of users' interactions with your page. You will boost your conversion rate.
Once you optimize your landing page, review that your ad groups are properly segmented for your target audience and displayed to the right users.
Then, test your ads to increase the clickthrough rate or CTR.
Now, let's review how to improve each factor of an ad campaign.
Improve or optimize your landing page 
As you have read before, every improvement on your landing page will increase your quality score.
If you don't know which parts of your landing page can be enhanced, find some tips and tools that you can use to pursue your goals below:
Make sure that your ad and landing page are linked.
Your landing page should show what your users expect after clicking your ad. Don't get them disappointed.
Review the quality of your landing page using tools like Google Page Speed Insights.
Text how your landing pages work.
Use negative keywords
These are keywords that we want Google to ignore with our ads. In other words, if a user includes any of these words in their search, our ad won't be displayed. A very common example is the word free. Multiple companies don't want to be related to this word.
Adding keywords will improve your Quality Score as the percentage of clicks will increase. Users who are searching things unrelated to your ads won't add impressions
Manage your Quality Score from Metricool 
Besides helping you manage your online campaigns, Metricool will also help you to discover the Quality Score of your campaigns and ad groups in general and for each of the parts that Google values.
Metricool's screen will show you the performance and the quality of your ads, allowing you to see if any part of the campaign or funnel is failing. This way you can act accordingly and improve the efficiency of your ads.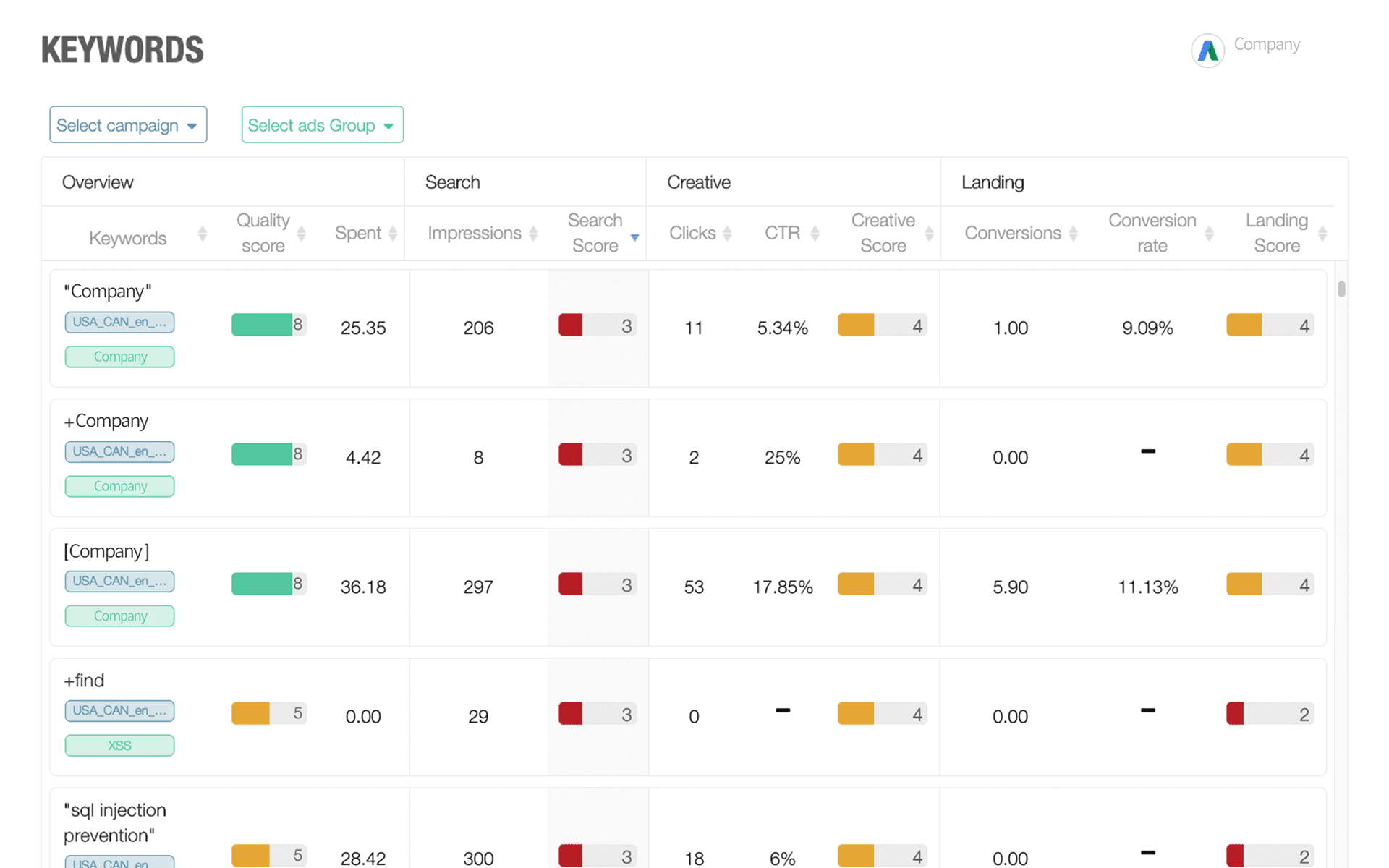 On Metricool's keyword section, you can review the different stages that users will go through until they convert. Also, you can check the Quality Score of your ads in general and for each of the three factors that affect those ads.
First column: Overview
You can filter the table to sort by ad groups or campaigns. In this first column, you will find general data about each ad campaign:
Keywords used for your campaigns.
Quality Score: General quality rating
Spent: The amount of money invested in the period previously selected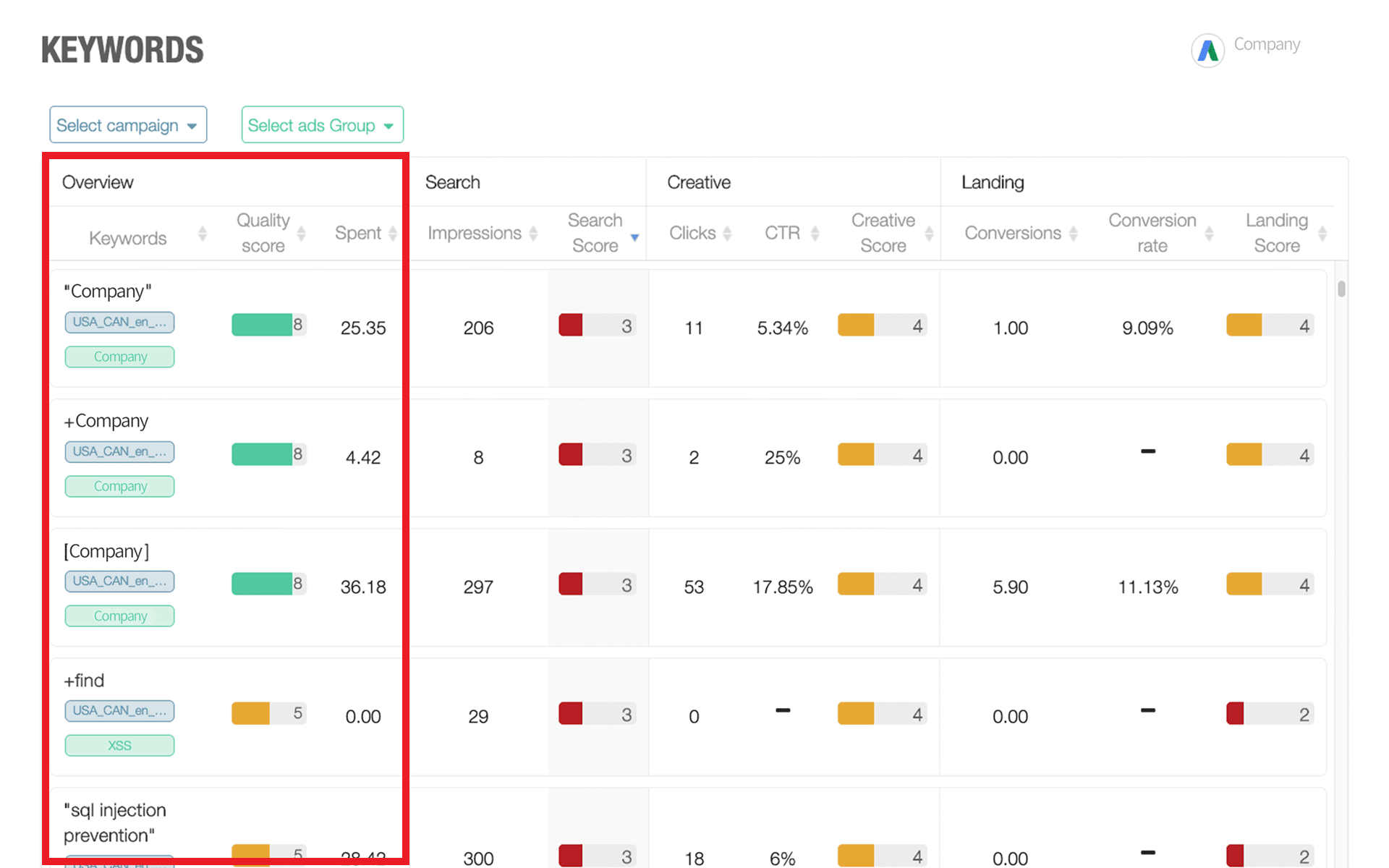 Second column: Search 
It is the first stage of the ad group funnel.
First, you can check the number of impressions. That is, the number of users that have seen the ad.
Secondly, the Search Score, that is the Quality Score for that stage that affects the general Quality Score: Ad relevance.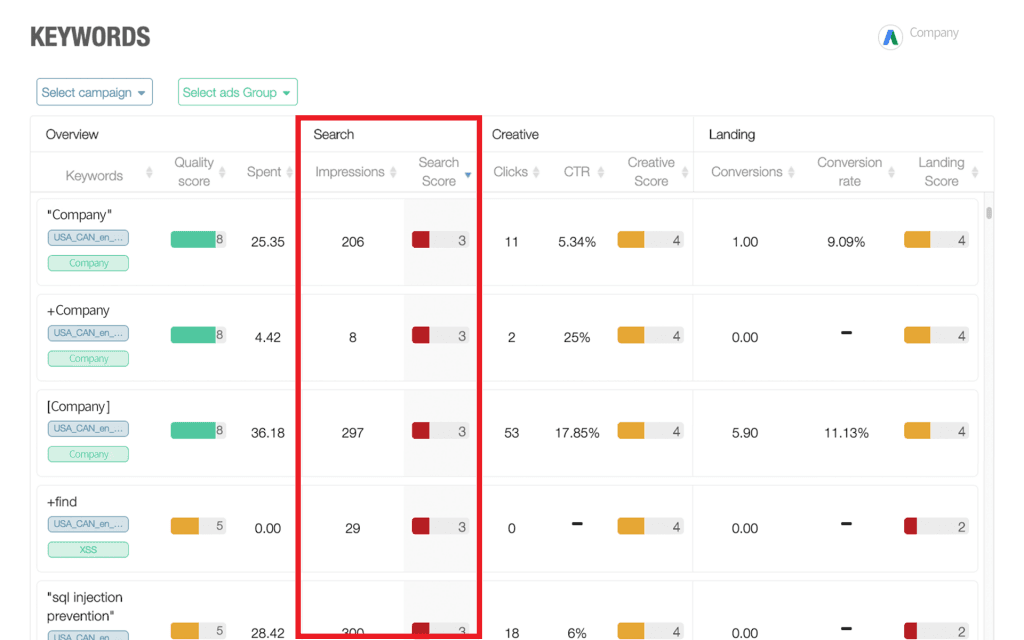 Third column: Creativity 
Second part of the funnel, you can analyze the number of users that have clicked the ad. To understand the performance of this phase, you can access to the following data:
Clicks: Clicks that each ad has received.
CTR: Clickthrough rate. Percentage of clicks in relation to the number of impressions.
Creative Score, that is, the Quality Score of this second phase that matches with one of the factors that affect the general Quality Score: Clicks.
Fourth column: Landing 
 Here, you can visualize all the data related to the conversion of the ads
Conversion rate: Percentage of people who have been converted thanks to the ad.
Conversions: Number of conversions
Landing score: Quality Score of the landing page that your ads lead to. One of the most important factors to obtain the general Quality Score.
The table is very visual and allows you discover how your Google ad is performing and learn what can be improved. This way you will rapidly discover the weaknesses of your ads in order to find a solution.
Would you like to try this feature and discover how your ad funnels work?