The most popular hashtags on Instagram on 2019
Here you have a ranking of the 10 more used hashtags on Instagram:
1️⃣ #Love has been used in 1,597,832,456 posts.
2️⃣ #Instagood, in second place, has appeared in 988,131,008 publications.
3️⃣ #Photooftheday: Over 490 million publications included this hashtag.
4️⃣ #Fashion has been used in 475,992,147 publications on Instagram so far.
5️⃣ #Beautiful is the fifth most popular hashtag with a total of 456,547,737 tags.
6️⃣ #Happy 422,116,954 publications.
7️⃣ #Like4like 410,451,976 publications.
8️⃣ #Picoftheday falls behind with 373,976,698.
9️⃣ #TBT with 489.000.000 impressions
🔟  #Art has been used in just over 334 million photos or videos uploaded on Instagram.
Most of them are very generic, so you can use them to tag any post on Instagram.
One of the latest update on Instagram is that you can now follow a hashtag, the same way you follow users. This is relevant because it lets you be up to date with all the content published under a specific hashtag.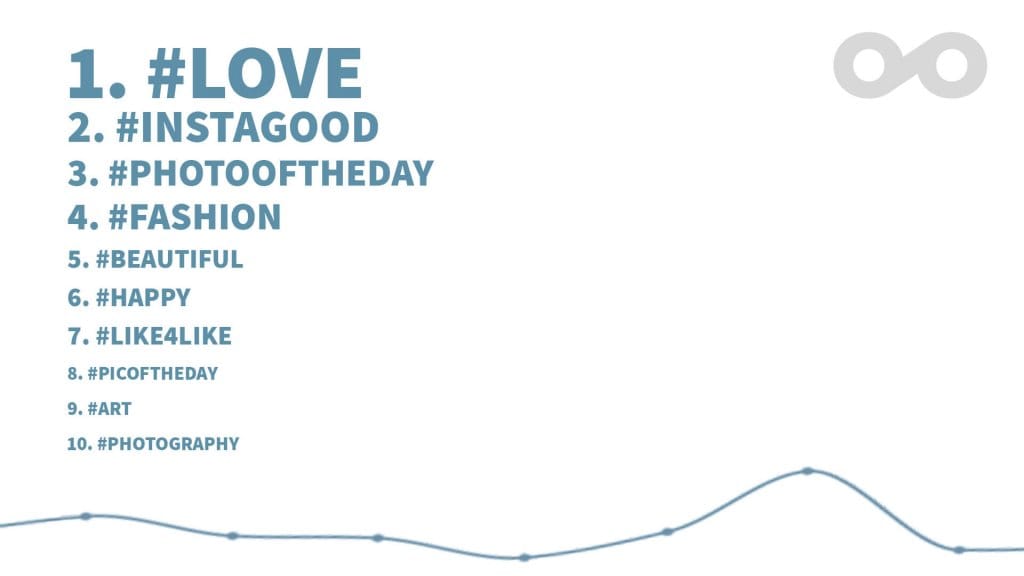 Other relevant hashtags for your content
The list of the most popular hashtags is constantly growing. If you didn't find any hashtag for your content yet, here you have more hashtags that are really popular on Instagram:
#instagram #followme #style #follow #instadaily #travel #life #cute #fitness #nature #beauty #girl #fun #photo #amazing #likeforlike #instalike  #Selfie #smile #me #lifestyle #model #follow4follow #music #friends #motivation #like #food #inspiration #Repost #summer #design #makeup #TBT #followforfollow #ootd #Family #l4l #cool #igers #TagsForLikes #hair #instamood #sun #vsco #fit #beach #photographer #gym #artist #girls #vscocam #autumn #pretty #luxury #instapic #black #sunset #funny #sky #blogger #hot #healthy #work #bestoftheday #workout #f4f#nofilter #london #goals #blackandwhite #blue #swag #health #party #night #landscape #nyc#happiness #pink #lol #foodporn #newyork #fitfam #awesome #fashionblogger #Halloween #Home #fall #paris
How can you find the most used hashtags on Instagram?
If this ranking of popular hashtags do not have yo do with your professional sector, you can always do a search of which hashtags are the most use used in your sector. Here you have an example: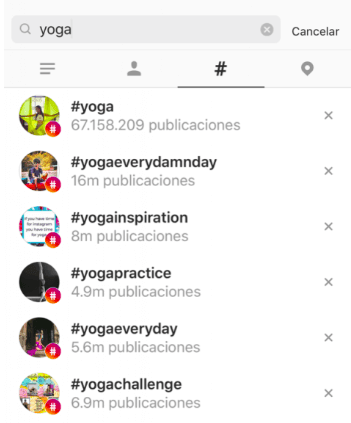 Analyze your hashtags with Metricool
In the Evolution section, you can analyze all the hashtags used on your Instagram account.
A table will be displayed with the following information:
The hashtags and images where you used these hashtags
Impressions on posts.
Number of posts that included each hashtag
Number of likes on posts with a specific hashtag
Total of comments on photos
This table can be organized in descending order or viceversa by any of the metrics mentioned above.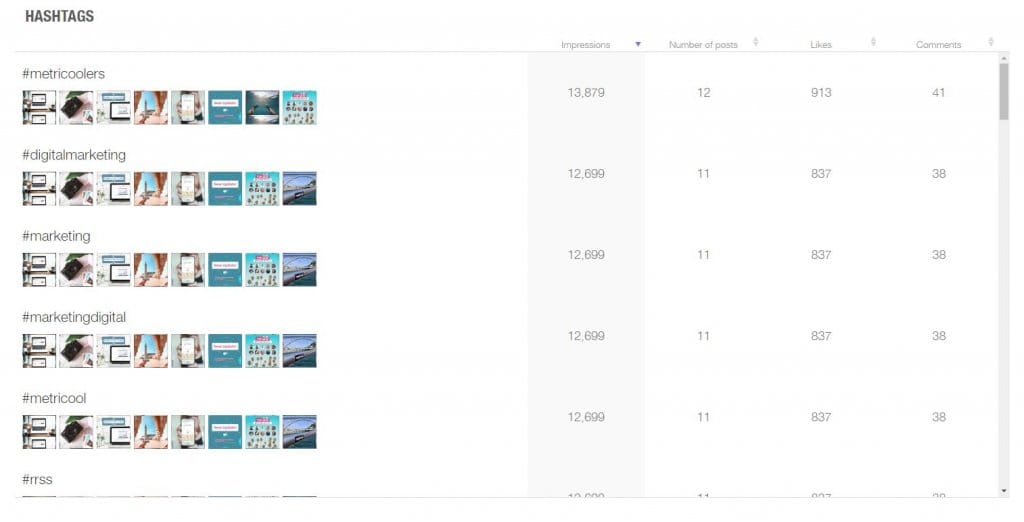 With this data you will know which hashtags you used more often and the most successful ones.
Besides, you ill get all the info about the most popular hashtags amongst your competitors along with their metrics, so you can understand their strategies and redirect yours accordingly.
With Metricool you can also monitor hashtags both on Instagram and Twitter to know who uses these tags and what they are talking about.
You will have information such as: how many messages or posts per minute have been posted, who posted it, which posts and which tweets contain that hashtag and many more metrics.
Now you know the most popular hashtags on Instagram and what they are for. Analyze your hashtags with Metricool for Free.