What is a hashtag?
A hashtag is a word preceded by a pound symbol (#). It categorizes the content uploaded on the social network Instagram although, it is also used on Twitter and Facebook.
If you want to reach a larger audience with your content, it's very important to use hashtags on Instagram in the best way possible.
What are they for?
Instagram makes a daily effort to keep their platform clean. To do so, on top of identifying and eliminating fake accounts and spam, they focus on making sure things are properly tagged so users interested in a topic or specific person are able to find it easily.
It's crucial that you tag your publications properly. If you use the most popular hashtags related to your material you will ensure that you do it right.
If you also want better visibility and reach with your post, you should consider some of the best and most popular hashtags on Instagram that can be used for almost every topic.
Why use hashtags?
Using hashtags on Instagram is one of the best ways to increase followers, expose your brand and connect to your audience.
They say that hashtags are useful to get more likes or followers, although hashtags are utilized to make sure publications are found easily.
When the reach of a publication is higher, the content normally gets more likes and in turn, it might increase the number of followers who tag that content.
Following hashtags on Instagram
Instagram keeps adding new updates. Thanks to the new feature that they recently added, you can now follow a hashtag, the same way you follow users. This is relevant because it lets you be up to date with all the content published under a specific hashtag.
The most popular hashtags on Instagram
#Love has been used in 1,252,832,456 posts.
#Instagood, in second place, has appeared in 728,131,008 publications.
#Photooftheday: Over 490 million publications included this hashtag.
#Fashion, This hashtag has been used in 475,992,147 publications on Instagram so far.
#Beautiful is the fifth most popular hashtag with a total of 456,547,737 tags.
#Happy: 422,116,954 publications.
#Like4like: 410,451,976 publications.
#Picoftheday falls behind with 373,976,698.
#Art has been used in just over 334 million photos or videos uploaded on Instagram.
#Photography: 210,395,525 publications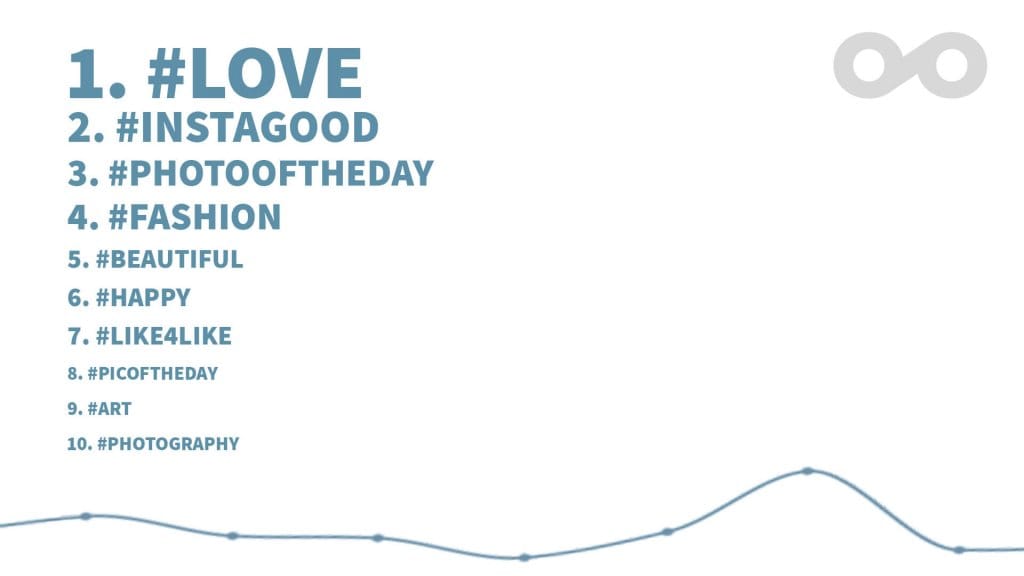 Other relevant hashtags for your content
#instagram #followme #style #follow #instadaily #travel #life #cute #fitness #nature #beauty #girl #fun #photo #amazing #likeforlike #instalike  #Selfie #smile #me #lifestyle #model #follow4follow #music #friends #motivation #like #food #inspiration #Repost #summer #design #makeup #TBT #followforfollow #ootd #Family #l4l #cool #igers #TagsForLikes #hair #instamood #sun #vsco #fit #beach #photographer #gym #artist #girls #vscocam #autumn #pretty #luxury #instapic #black #sunset #funny #sky #blogger #hot #healthy #work #bestoftheday #workout #f4f#nofilter #london #goals #blackandwhite #blue #swag #health #party #night #landscape #nyc#happiness #pink #lol #foodporn #newyork #fitfam #awesome #fashionblogger #Halloween #Home #fall #paris
Analyze your hashtags with Metricool
In the Evolution section, you can analyze all the hashtags used on your Instagram account.
A table will be displayed with the following information:
The hashtags and images where you used these hashtags
Impressions on posts.
Number of posts that included each hashtag
Number of likes on posts with a specific hashtag
Total of comments on photos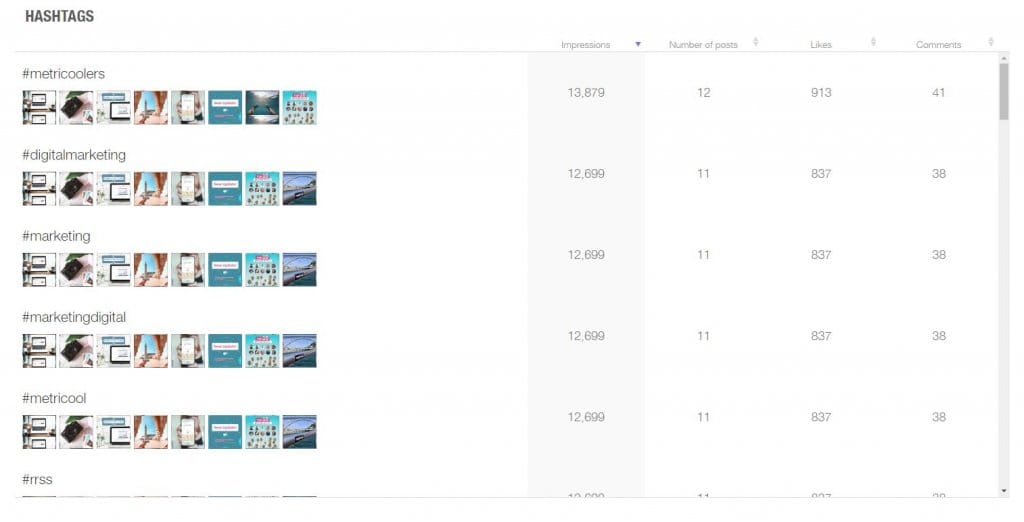 This table can be organized in descending order or vice versa by any of the metrics mentioned above.
With this data you will know which hashtags you used more often and the most successful ones.
Besides, you will get all the info about the most popular hashtags amongst your competitors along with their metrics, so you can understand their strategies and redirect yours accordingly.
Now you know the most popular hashtags on Instagram and what they are for.