The concept of content marketing is really complex. It encompasses all types of content you publish with the intention to build awareness for your brand. It involves social media posts, blog articles, guest posts and articles for directories, webinars, videos, eBooks, whitepapers, infographics, and more. Each piece of content you produce has to be part of an elaborate content marketing strategy.
This brings us to the issue of content marketing productivity. To complete all that content and measure its effectiveness, you need high-performance productivity tools.
Important Productivity Tools for Successful Content Marketing
Zapier
When you automate repetitive tasks, the process of content development and sharing becomes easier. Zapier allows you to create so-called zaps. These are patterns that trigger repetitive tasks. As an example, you can instruct Zapier to share each new post on your blog as a Facebook update. It can also copy Gmail attachments to Dropbox and alert you about the new files that you got from collaborators. When you create an email newsletter, Zapier can trigger MailChimp to send it to all subscribers.
Zapier can connect multiple apps and tools together: Google Docs, Facebook Pages, MailChimp, Asana, Trello, Gmail, LinkedIn, and more. You can adjust the zaps to your working pattern. They will reflect the habits of your team, and they will make content marketing a much more enjoyable process.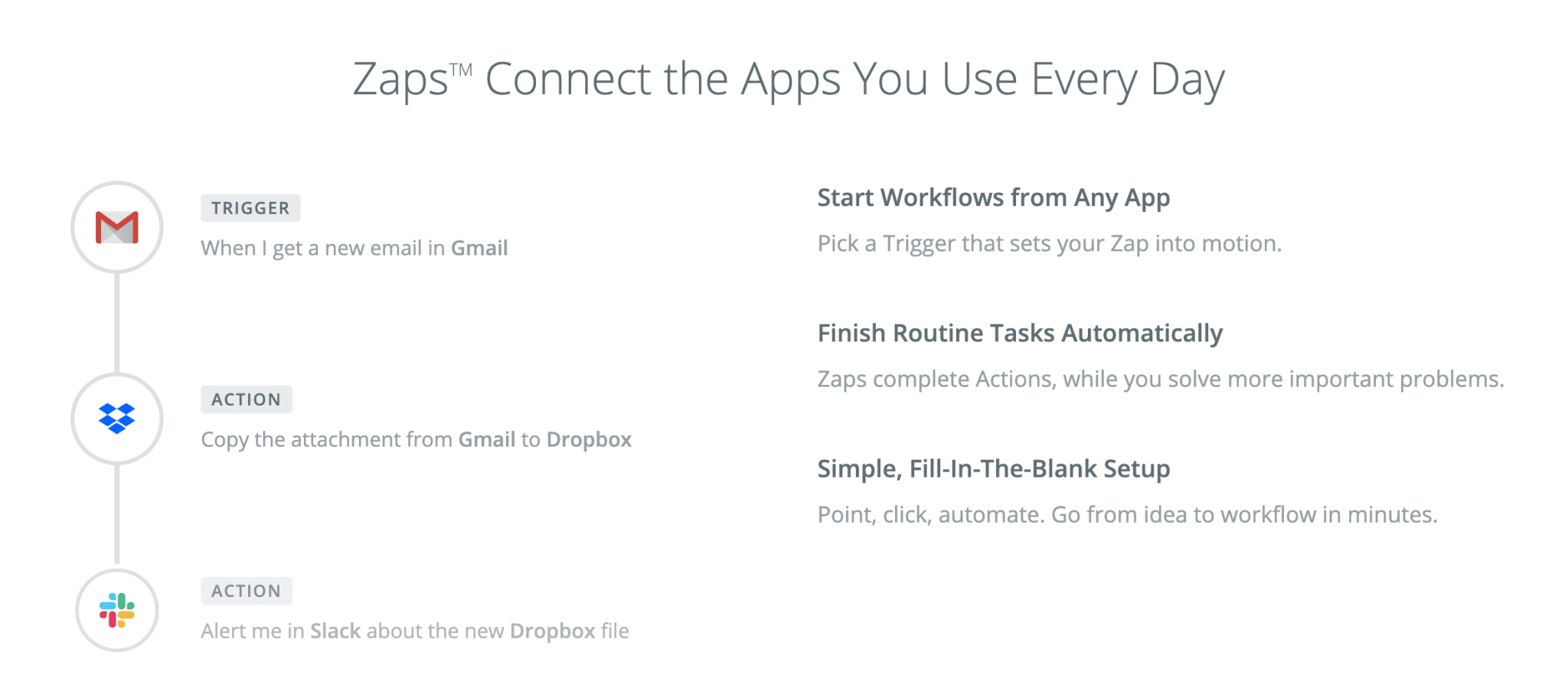 2. Microsoft Office
We can talk about alternatives to Microsoft Office for Mac, but we'll come down to the same conclusion: this program is the industry standard. Content development is not a one-man task. It involves an entire team of marketing experts, researchers, writers, editors, and clients. Since most people use MS Office, it's the standard format for documents, sheets, and presentations.
Even if you don't use Windows, it's important to install Microsoft Office for Mac. All programs of the suite are rich in features, powerful, and easy to use. People have been using them for decades, so they are not willing to give them up no matter how many alternatives you suggest for Microsoft Office for Mac. The most productive thing to do is use the content development program that most other people use. That way, you won't encounter difficulties when sending and processing files.

3. Metricool
Metricool is one of the most versatile content marketing tools that enhance your productivity. It has a convenient content planning feature, which helps you manage your entire strategy. It integrates with Instagram, Facebook, Facebook Ads and Groups, Google Ads, LinkedIn, Twitter, and more.
It gives you effective reports to analyze different aspects of your marketing strategy.
Metricool replaces several tools that you'd use to perform separate tasks. That's what makes it one of the preferred productivity tools for marketing professionals.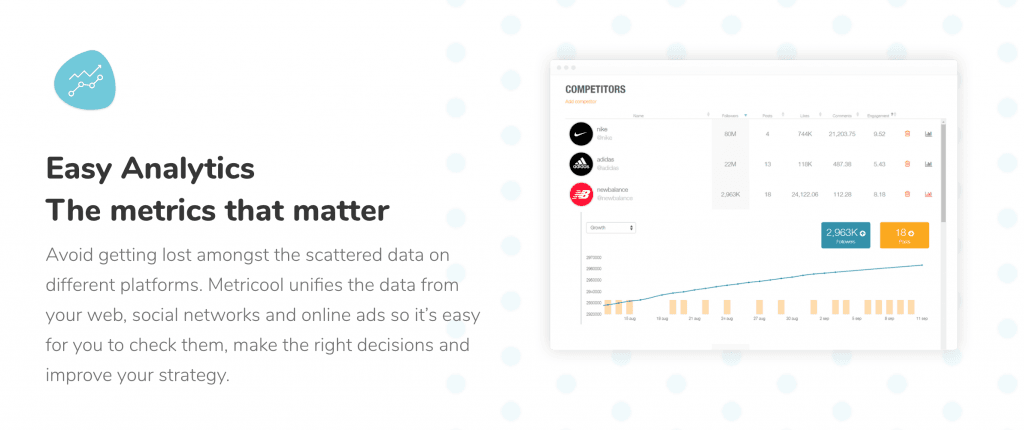 4. TrenDemon
"Transform your readers into buyers" – that's the promise you get. This tool will analyze your business goals and top conversions. Then, it will give you an evaluation of the return of investment from different traffic sources. When you realize how each piece of content, event or channel reflects on your marketing goals, you'll be able to map out a more effective customer journey.

This is a tool specifically designed for content marketers. Managers use the insights to inform their writers on the effects their work has. Thanks to those updates, they can address the weak points and develop more successful content.
5. CoSchedule
Your editorial marketing has to work for the entire team. It should outline each task that each member has to complete. It should also enable the team members to update the calendar with the progress they make.
CoSchedule creates a customizable calendar that's great for planning posts and keeping track of everyone's work. It integrates with WordPress and it has social media publishing features.

6. Canva
Why are we including a tool for visual designs among content marketing tools for enhanced productivity? – Because great visuals make your content more productive. They attract more attention when shared on social media. They rest the reader's eyes along the content. They help you convey an important message in the coolest way possible.
Canva is great for designing infographics, posters, banners, social media visuals, and other types of content.
7. OutreachPlus
Are you neglecting email, thinking it's an outdated strategy for promoting a brand? If that's the case, you're making a mistake.
Everyone knows about the important of email newsletters. MailChimp is the preferred tool to use for that. OutreachPlus has a different purpose. It's designed to help you outreach to influencers, journalists, and potential collaborators who can help you promote your content.

You can use templates, but personalize them with a company name, first name, and other elements. It saves you a lot of time when trying to connect with influencers or suggest guest posts to authoritative websites.
8. Flipboard
What's the most productive thing to do when you don't have anything new to publish but you still want to engage your audience? You can find an in-depth article by another publisher and share it to trigger a discussion within your audience.
Flipboard helps you discover popular articles in all niches. You can offer your own comments on the matter, and invite social media followers to join the discussion.

9. Quora
When you're trying to find productivity tools that give you ideas for new topics, Quora is the website to visit. Adjust your interest in the profile, and Quora will show questions relevant to your niche. Use them as the foundation for new blog posts.
To use the entire potential of Quora, join the discussions. You'll offer quick answers and share links to a more elaborate post at your site. It's a great way to boost the traffic numbers and build some authority as an expert in your industry.
10. Wrike
If you're working with an entire content marketing team, you need a tool that helps you assign tasks and due dates. Wrike is a great one! It helps you communicate with all team members within the same platform. It's similar to CoSchedule, but sleeker in appearance. You can organize every detail of the project and track it throughout its stages.
11. Visme
With Visme you can create computer graphics and presentations online for free. With this tool you can tell your stories in a more visual way.

Get your presentations to engage the audience and make data less boring with the computer graphics that Visme helps you create.
Choose the Tools that Work for Your Team
Content marketing is not as simple as "choose topics, write posts, and share them online." You need tools that help you choose the right topics, complete the right type of posts, share them at the right time, and analyze the results of everything you did.
With a proper combination of the tools we suggested above, you'll achieve greater productivity in your content marketing campaign. What does that mean? You'll plan the editorial calendar in a more effective way. You'll assign the posts to writers who can get it done on time. You'll communicate with the entire team and you'll know how they are handling the workload along the way. Finally, you'll publish better posts that will get you closer to your branding goals.