Twitter Analytics Tool Free
With Metricool, you can learn about all the Twitter Analytics you need to measure and analyze your metrics with the objective to improve your social media strategy and obtain better results.
Metricool helps you monitor in the same panel what's happening on your Website/Blog, Facebook Page, Instagram, Twitter and LinkedIn for a specific period of time or in real time, in a very easy and visual way. Metricool stands out over other similar analytics and tracking tools for its ability to offer data all at once.
Twitter User Statistics
In the Growth graphic for Twitter stats, you can analyze the evolution of the following data:
Number of followers
Gained followers
Daily gained followers
Following
2nd grade followers (your followers' followers)
Reach of your publications and number of tweets published
You will be able to improve your performance on Twitter thanks to the detailed analysis offered by Metricool about what's really happening in your account or your client's.
Interactions and Ranking of Tweets
You can find here all the relevant figures about the results obtained in a specific period regarding:
Likes
Retweets
Mentions
Tweets
You can also analyze more specific information:
Daily likes and likes per tweet
Daily retweets and retweets per tweets
Twitter mentions analytics: Daily mentions and mentions per tweets
Another relevant feature is that this tool provides you with a ranking to compare your tweets results. The objective is to find out which tweets were more successful to increase your Twitter engagement. This is also very useful to help you create your monthly planning and your general strategy.
Follower Statistics Twitter: Active Followers, Followers Balance, Acquired and Lost Followers
In this section, you can analyze all the info related to your follower's community on Twitter:
Number of active followers in the last 30 days and 24 hours. This info will let you improve your strategy to better reach your community in the most active hours.
Followers balance: How many followers you gain and lose daily. This will let you have a clear view of how your community evolves depending on how often you publish.
Twitter followers that started following you and Twitter unfollowers.
 Twitter Scheduler
In the Planning tab, you can find three options: Calendar, History and Autolists.
Twitter Content Calendar
Organize all your tweets in a simple and quick way to save time and be more agile when it's time to publish. Metricool will let you coordinate with your calendar all your publications, attaching a link and up to 1 image if you want. This option is very straightforward once you know what you want to publish and when it's the best time to do it. Just follow these steps:
Select in the calendar the date and time you want to publish your tweets.
Add images, GIF or label people from this tool.
Once you schedule it, our Metricool Twitter scheduler will post it automatically.
Other advantages are:
Autocompletion for mentions on Twitter.
When you schedule a post on Twitter, it doesn't delete it from the list so it can be used to publish again at another time or in a different social network.
You can post the same content in different platforms at the same time.
You can drag images from your computer to attach them to a publication
You can publish up to 4 images, 1 GIF or 1 video.
Once the programmed tweet is published, it'll be marked in green in your calendar.
Best Time to Post on Twitter
Apart from planning your tweets, this tool allows you to know when it's the best time to post on Twitter. In short, the "hottest" hours to obtain the best results. You will know at every moment when there are more members of your community connected to be more visible, increase the engagement and improve the traffic. Previously, we mentioned that with Metricool you can know when your followers are more active. This feature will help you to know the engagement level of your Twitter account and your publications, find out what works best.
Activate the 'best time on' button for Twitter (you also have the option to see the best time to post on Instagram and Facebook). Then, you will see in the calendar below, bands from light to dark blue that indicate when it's the best time to publish.
The dark blue bands show the best time to publish. In other words, when you have more possibilities to get more interactions.
Metricool App
With the mobile application of Metricool, all tastes and all things Twitter at any time You can see your photos and tweets without notice.
Here are the links to download the application:
Report Twitter Account
This is one of the most important advantages that you will obtain with Metricool in comparison with other tools. Metricool helps you to create Social Media Reports automatically in PDF or PPT (PowerPoint) format, offering Twitter metrics in great detail. The result will be very professional and with an attractive design.
These reports can be presented to your clients or superiors, or simply show the information to potential sponsors or advertisers.
Besides the high level of professionalism, the reports will help you track your strategies and objectives.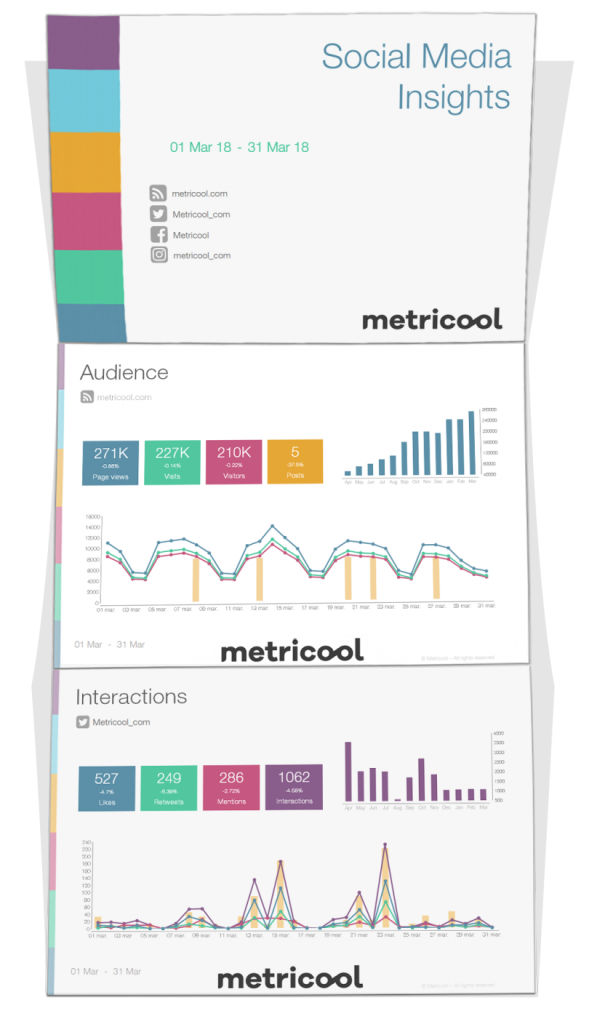 On top of that, these Social Media Reports can be customized with options like:
Interval of time that you want for your report.
Metrics and sections that you want to show.
Logo of your company or agency (it will appear at the bottom of each page)
All Twitter analytics in one tool that will save you time and probably also some headaches with your metrics.
Twitter Benchmarking
At your disposal in this section is all the info about your publications, interactions, community of followers and people you follow in real time. At the same time, you can compare this data against the competitors you choose. That is, Twitter Benchmarking.
You can perform an analysis in real time about your community of followers and following, showing the relationship between both groups. You'll also be able to see how much they overlap.
There is a lot to learn about your competitors and their strategy on Twitter. What they are doing well and what they are not. Find out the followers you share and your common ground. The real-time analysis allows you to add one competitor to establish a comparative. With this feature, you can figure out who has more interactions or the type of publications that your competitor uses (original tweets, retweets or if he shares many links or images).
So, with this info you can prepare a strategy to
Attract new followers that you are interested in.
Learn what works better for them.
Know the type of strategy they use with their own followers.
Knowing your competitors well is crucial, you don't have to copy them but you need to know how they operate and why.