Now Metricool can tell you what's happening on your Instagram professional accounts ( Business or creator) . Simply connect your profile to Metricool to start enjoying all its metrics and reports. Get Instagram metrics for your professional account and create the perfect report for your clients or company. Let's start!
How to obtain the most relevant metrics for your Instagram business or creator account
Profile Analysis
Once you connect your Instagram account to Metricool, you can monitor the interactions and enjoy a graph with the evolution of your account. The following metrics are available:
Impressions: Impressions received on content published in a specific period of time.
Reach: Number of people that access content
Profile Visits: The number of times your Instagram profile is viewed.
Posts: Number of posts published during the period of your selection.

Instagram publications Analysis
The content published on Instagram can be analyzed too. You will obtain the following information for each publication:
Time and date of publication
Impressions: The number of times that your publication is displayed
Reach of each publication: the number of people that access the content
Likes: Number of "likes" interactions received
Number of times the image is saved
Comments: How many people leave a comment on a publication
Clicks: Number of clicks on your Instagram Bio link
Interactions: Number of total interactions with your content
Engagement: Measuring the success amongst your audience
Instagram stories analytics: How to obtain Instagram Stories
Probably you are interested in knowing the metrics for your Instagram publications, but also in learning about the reach and impressions received on your Instagram Stories.
NEW
"Now with Metricool you can obtain all your Instastories metrics"

What Instagram stories metrics does Metricool provide?
When you connect your account to Metricool, you can get metrics for all the Instastories shared on your profile. The metrics provided are the following:
Date: Day and time that a story is published
Impressions: Number of times that a story is displayed
Reach: The number of unique users that see a story.
Replies: How many replies a story receives storie en el articulo en espanol
Taps Backward: When users tap backward to repeat the story, that is, they want to see it again.
Taps Forward: The number of times users tap forward to go to the next story before finishing to see the story they are on.
Exits: The number of times that users click the "x" to close a story.
All this data will be displayed on a table. You can reorganize your stories by the preferred metric. In addition, you can download the stories analyzed.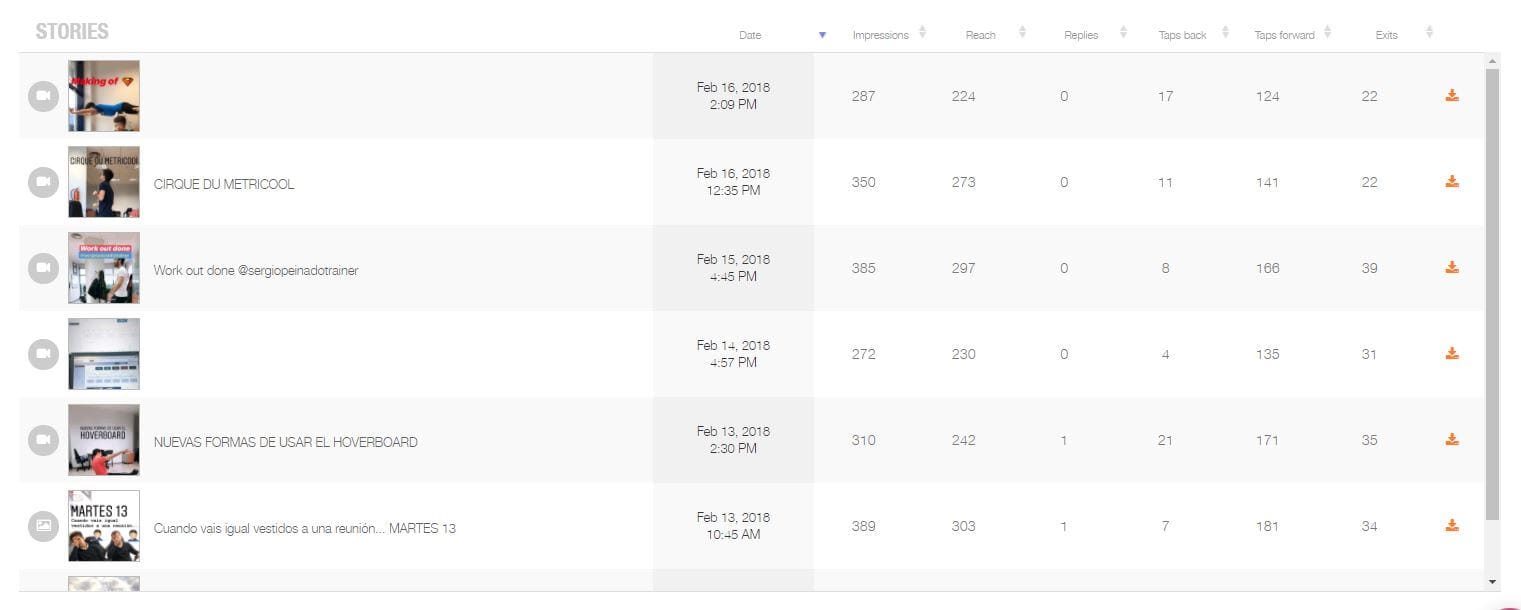 How to connect your Metricool account to obtain your Instagram Stories Metrics
To connect your Instagram account to Metricool's tool, you must follow these steps:
Convert your Instagram personal account into a business account.
Connect your Instagram Profile to the Business Manager tool for Facebook ads.
Synchronize your Instagram account with Metricool to analyze your stories.
How to convert your Instagram personal account into a professional account
You must follow these steps to transform your account into a business one:
Go to settings on your profile and tap Switch to Business Profile.
Once you tap this option, you must select the Facebook Page to associate with your account or if you don't have a Facebook Page, create one.
CAUTION
Your profile must be public to have a business account
3. Finally, fill out or edit your contact information and choose your type of Instagram account: business or creator.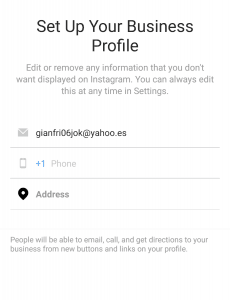 How to connect your Instagram business account to Business Manager
Go to Business Manager. On the top right corner click on "Business Settings".
Once you tap on "Business Settings", you will see the screen below where you must click on the following options:
People and Assets
Instagram Accounts
Choose the account that you'd like to connect (in this case Metricool)
Tap "+ Add" button
Once you have clicked on "+ add" the following screen appears. The last step is to enter the username and password for your Instagram account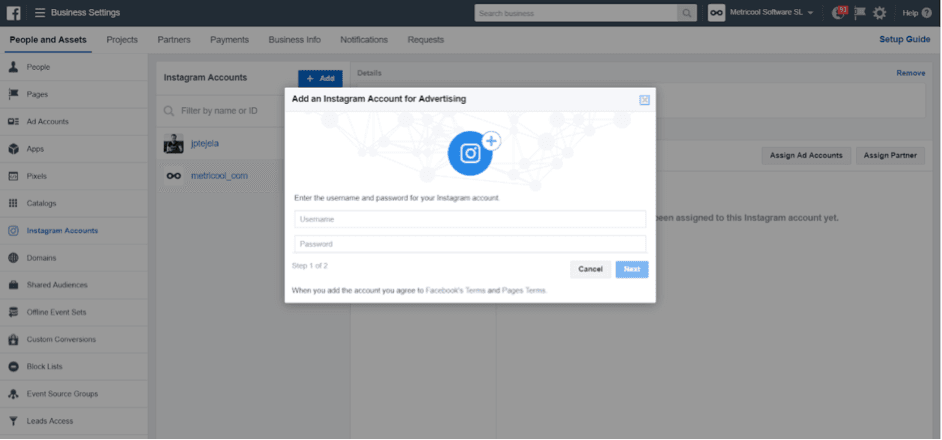 When you connect your Facebook ads account to Metricool you will obtain many benefits. Here you can discover all Facebook ads metrics that you will get
How to connect your Instagram account to Metricool
These are the following steps to connect your account to Metricool:
Open your Metricool Account and tap on "connections" on the top right corner.
On the option Instagram, click on Business Account to connect it to Metricool.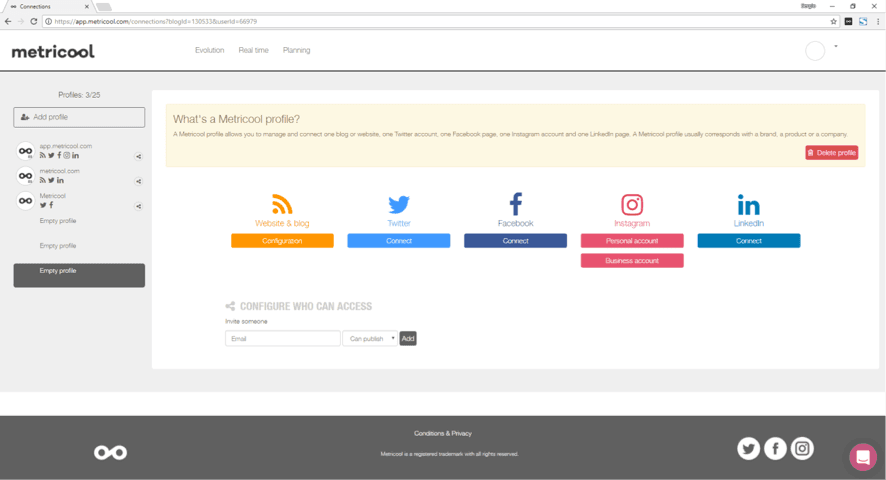 Choose the page you'd like to associate to your profile
Your account is successfully connected!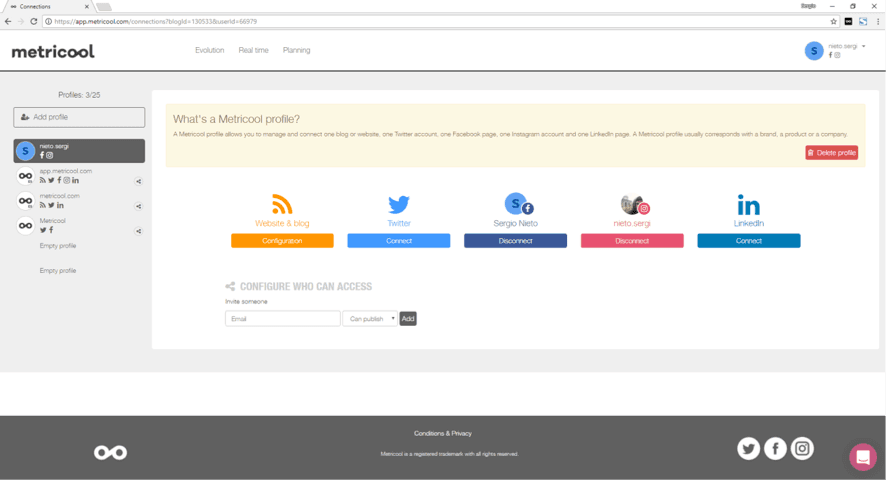 Instagram metrics report for your Professional Account
All the info and metrics for your professional account (business or creator) will be available in a single report when you click "generate report" on the left side menu.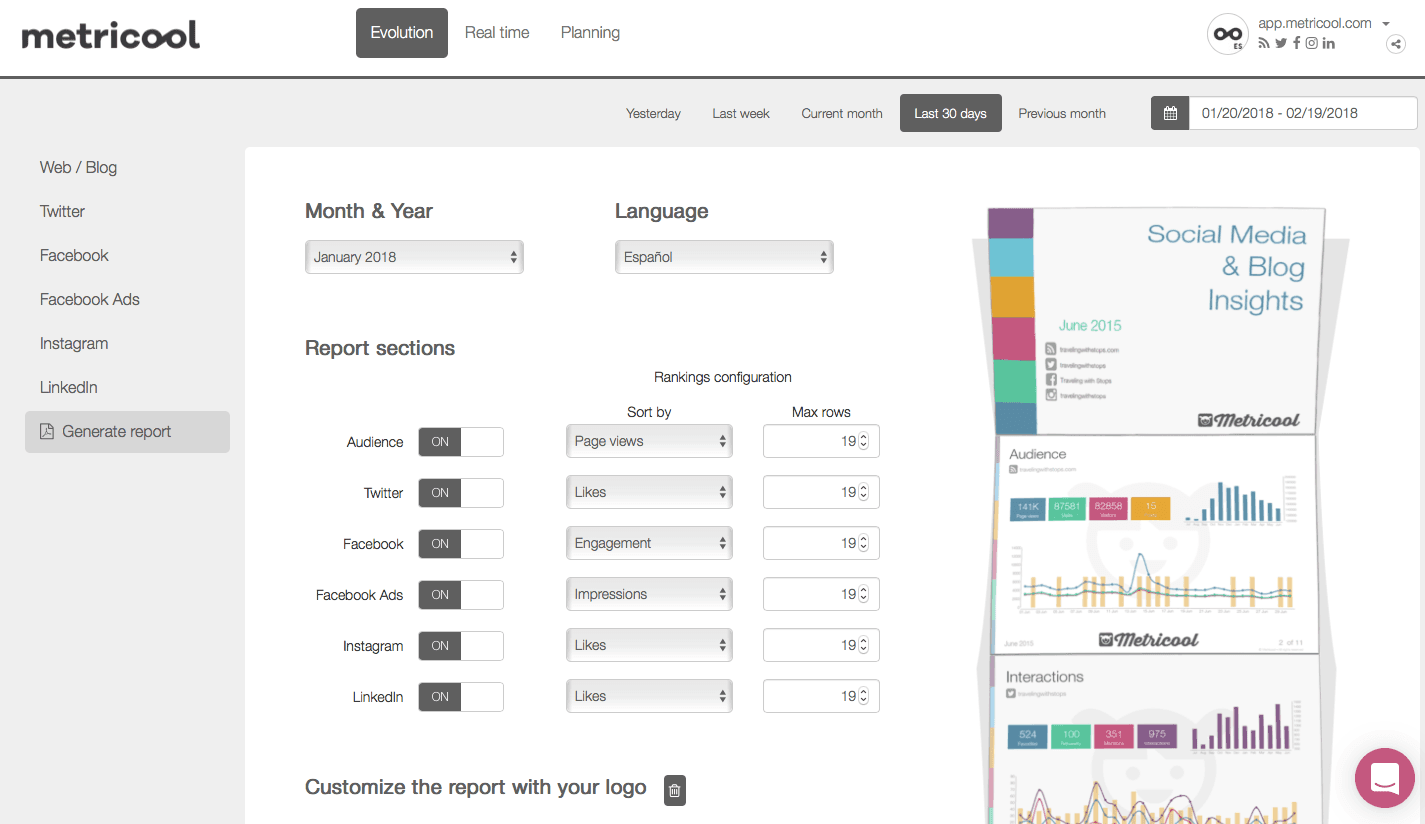 This report will help you to monitor your client or your own professional account and also, to present Instagram evolution and the performance of the strategy.