LinkedIn has become the most widely used and most relevant professional social network around the globe.
There two main types of profiles present on LinkedIn:
Companies or brands through LinkedIn company pages.
Any type of professional through personal profiles.
Whether you have a company page or a personal account, you must focus your efforts on:
Posting frequently
Maintaining an excellent personal or brand image
Using the resources that LinkedIn puts at your disposal
This is why in this article, I will show how to have everything under control without the need to be connected to your computer or mobile 24/7: I will show you how to schedule content on LinkedIn.
And you will do so with our secret weapon: Metricool.
Why schedule your posts on LinkedIn
Scheduling your content brings multiple benefits for both your company page and personal LinkedIn profile.
You keep your profiles or accounts always active: so your followers or contacts will continue reading news about you.
You save time: by leaving everything scheduled beforehand, you have time for other essential tasks, and you won't need to be connected to your phone 24 hours a day to publish news or content.
You drive traffic to your website or the landing that you want.
How to schedule your posts on LinkedIn with Metricool
As I have mentioned at the beginning of this article, Metricool is an excellent tool to keep your company page or your personal LinkedIn profile up to date because it allows you to schedule all your content ahead of time.
First, create a Metricool account, or if you already have one, access your account and connect your profile or your LinkedIn company page.
Bear in mind that to connect LinkedIn with Metricool, you will need a premium account.
Go to the connections dashboard that you can find in the drop-down menu in the upper right corner. Then, click on connect account under LinkedIn and follow the instructions prompted.
You can connect both a company page that you manage and your own personal profile.
Once you have your account connected to Metricool, access the planning section in the top menu.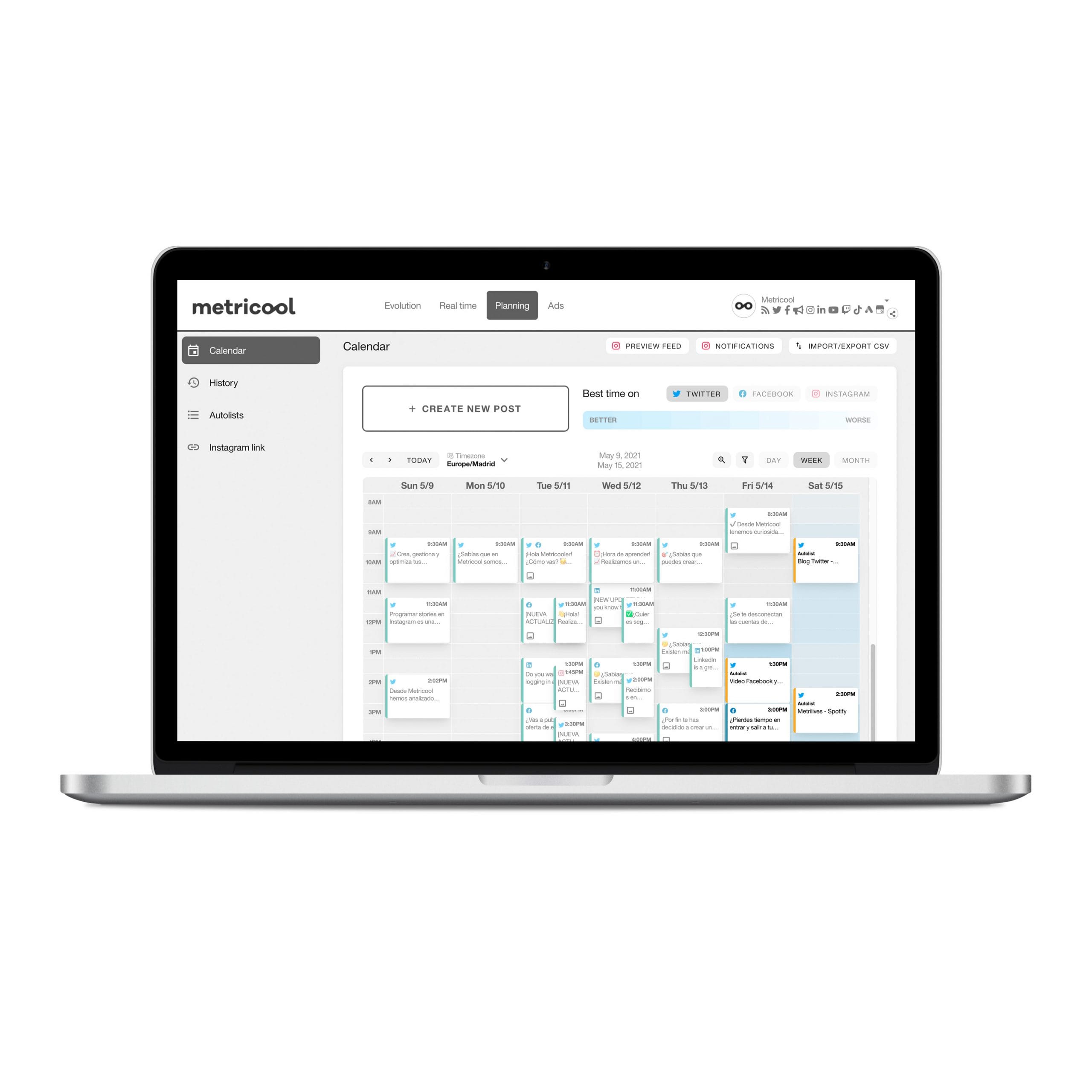 Click on the option to create a new post where you can set up your post:
Select LinkedIn icon
Set the time and day you want to post
Write your post
You can add links, images, videos, and GIFs.
On the right side, you can preview how your post will look once published.
You can save the post to schedule automatically or leave it as a draft and review it later.
You can also schedule content by clicking directly on the calendar to select the day and time you prefer.
Import a CSV file to schedule in bulk
If you are interested in programming content in bulk, you can also import a CSV file to Metricool and schedule all your content at once.
If you are interested in doing it this way, you have a small tutorial that you can find below:
Schedule your content with autolists
Do you know the autolists of Metricool? If you want to program recurring content that is evergreen, such as your blog posts or your YouTube videos, Metricool's autolists can become your main ally.
Autolists are lists of content that are automatically published on the days and times that you decide. You can make the list circular. In this way, once the last post is published, the list will start over.
Now you know that with Metricool, you can schedule your content on LinkedIn and automate your strategy to save time and be organized.
What are your thoughts? Have you started scheduling your posts on LinkedIn with Metricool?