Sometimes it's hard to ignore tweets, comments, TikTok's, about common discourse on social media. Not saying all information you see on social media is fake. However, with how prevalent social media is in our day-to-day, it's easy to believe what you read.
Just like any other industry, there are myths about social media tools, platforms and data that needs to be debunked. With each myth, I will share a tool or trick that will disprove these fabrications.
No need to feel overwhelmed by social media. There are endless possibilities and tools on social media that are here to help, not drain your bank account or defy your goals.
Myth #1: Social media is not measurable
With in-app analytical access, social media is actually more measurable now than ever. Not only do Instagram and Facebook have performance tools within their own platform, there are numerous tools where you can track your accounts success.
Another tool, that allows you to interpret data across all your social media accounts, is Metricool. In our analytics tool, you can examine your growth and impressions, see your audience demographics, look at how your ads are doing, track your hashtags and keep an eye on what your competitors are doing.
These metrics allow you to see if your strategy is working, and how you can improve it. The numbers are there to help, but it's up to you how you interpret them to make an impactful change.
Myth #2: The more hashtags used, the better 
Hashtags are a tricky element when it comes to your social media strategy. To hashtag or not hashtag has been a long debate. However, I think we can all agree that they can be a helpful tool when used carefully.
Adding hashtags randomly however, is not using them conscientiously. Hashtags are used to connect to new communities and share content with similar subjects. Thankfully, there are many hashtag tools that help you choose the right tags.
One useful tool is Metricool's Hashtag Tracker. For only 9.99€ EUR you can track any hashtag for 24 hours per social network. Pay only for what you use by setting the days and sessions you want to monitor. After you track these hashtags, Metricool will supply analytics with the evolution, languages, countries, similar hashtags and participants, so you can analyze hashtags that align with your content.
Myth #3: You should only schedule posts during the work week 
It would seem that professionals only use social media during the weekdays. However, we have to think about the whole scope of clients and users. In our 2022 Instagram Study, we also figured out that posting during the week isn't actually important.
After analyzing 185,671 professional Instagram accounts, 1,856,089 feed posts, 6,761,264 stories and 279,479 reels, we found out that the day itself doesn't matter, but rather the time each day. The winner was 8PM, regardless of the day.
Inside our planning tool, we even have a Best Hours feature, where you can see when your audience is most active. Each account is different, so follow what works best for you.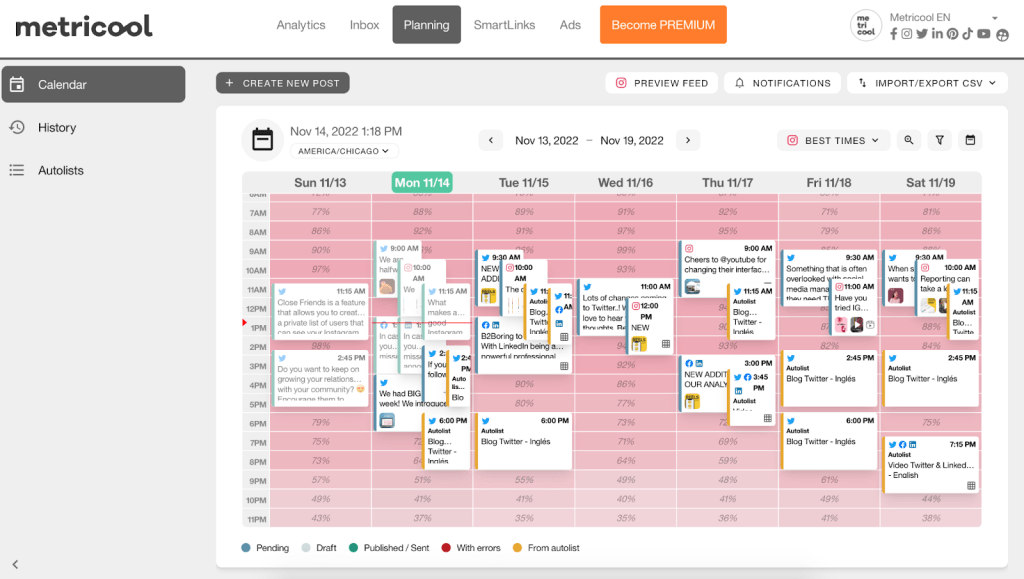 Myth #4: Conducting social media reports take a lot of time 
Manually grabbing data across multiple accounts and platforms can take up so much time, a valuable resource that always seems to get away from us. Well, inside Metricool's analytics feature, you can receive full, personalized reports across all social media platforms and for all your accounts.
This will save you hours each month, so you can focus on other important tasks and projects. You can even add a brand logo, change the language, choose the period, enter multiple email addresses to send the report, and toggle on for receiving automatic monthly reports.
Say goodbye to the old ways, and hello to the new. This is a game-changer that you don't want to miss out on. Upgrade to Premium and unlock this feature!
Myth #5: Social media tools are so expensive
Whereas this can be true, it doesn't mean it's true for all social media tools. With Metricool, you can connect your accounts across all social media platforms, completely FREE of charge. Yes, you heard that right.
Analyze your metrics, add up to 5 competitors, schedule up to 50 posts a month, respond to comments and replies in the inbox, see the best times to post your content and connect to Canva.
All of this, available with Metricool's Freemium account, sign up today!
Myth #6:  I should just publish the same content across all platforms
Sometimes it can seem overwhelming to create specific content for each platform. However, quality should be prioritized over quantity. Therefore, curating content for each network is important.
It doesn't have to be extremely different, but enough so you don't fall into monotony. How can you do this? Inside our planning tool, now you can edit content for each platform, according to their requirements.
This will allow you to tweak content, change the copy, add different images, use different hashtags, while being able to create content in the same site and even the same window.
🆕 New on Metricool: Edit your posts on multiple platforms at once! 🚀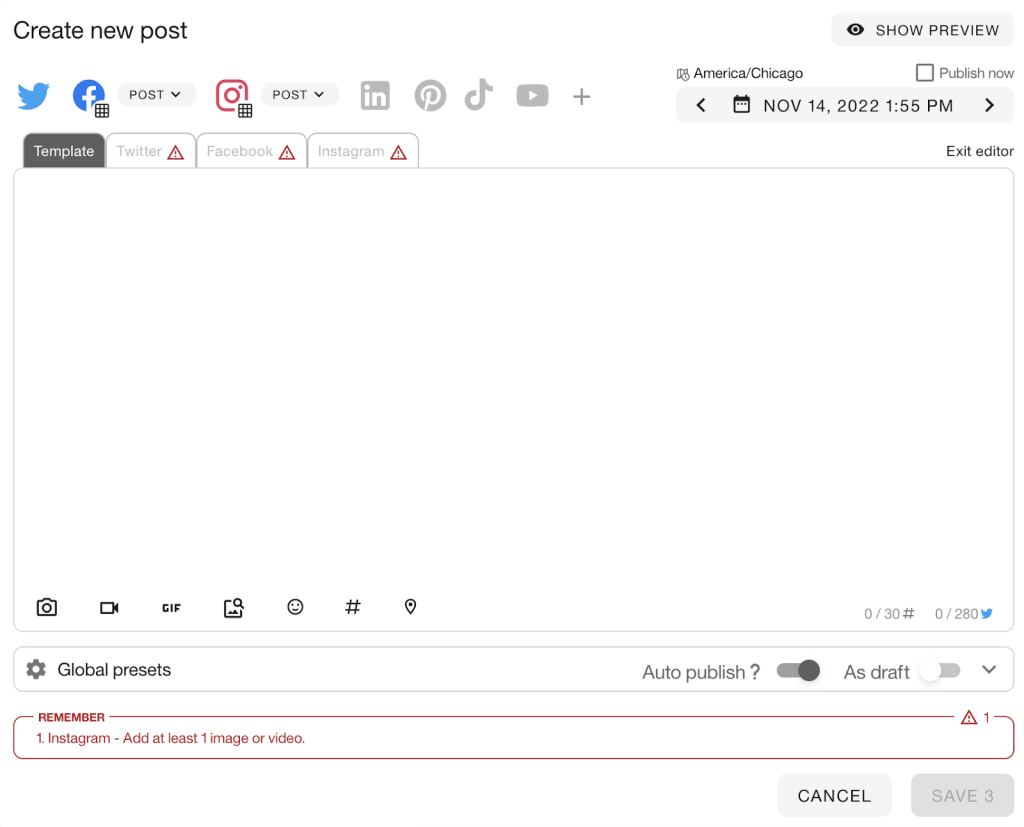 Myth #7: Success is measured by number of followers
Social media "success" is much more than ranking up those followers. It's about connecting with your audience. This goes way beyond the numbers and where the data comes into play.
While the size of your audience can allow your voice to be amplified, if you're not looking at other metrics, it's hard to make decisions that reflect your audience's needs.
Create a social media strategy and objectives that go beyond gaining followers. Not sure how to start creating your strategy?
Hopefully this helped you change your perspective about social media marketing and tools. What other social media myths need to be busted? Leave your comment below!