Instagram rolled out its own algorithm about a year ago
. Since Instagram is a sister company to Facebook, it's not much of a surprise that it dictates what's given priority in users' feeds, which can, in turn, directly affect how often users are seeing your content.
Visibility matters, and in this post we're going to tell you everything you need to know about Instagram's algorithm, including what it is, what it means for businesses, and how you can come out on top (both literally and figuratively).
What Is the Instagram Algorithm?
Instagram's algorithm went into place last year, and Instagram simply stated that the algorithm would prioritize content in the feed based on what it thought each user wanted to see. This was a big move away from the linear time-based model it had started with, where all posts were showed in the order of when they were posted. The algorithm sounded extremely similar to Facebook's, which works on the same premise, and made brands nervous.
We don't know the exact equation that Instagram uses for its algorithm, but it's clear that it takes two things into account to sort an individual users' feed:
Relevance, evaluated by which profiles and posts users interact with
Engagement, calculated by likes, comments, and regrams.
What Does This Mean for Business Profiles?
Instagram's algorithms haven't hit businesses nearly as hard as Facebook's. That being said, our posts are still held to the same standards as everyone else's, and we need engagement in order to maintain high visibility. Since it is slightly more difficult to get engagement from customers compared to engagement from actual, real-life friends, this is still a challenge. Still, as the example below proves, people are still more than happy to engage with brands' content on Instagram.
Because of this, we need to understand how to get around Instagram's algorithm so we can ensure that our content is showing up as high as possible in our users' feeds. To do this, we need to get as much engagement on our posts as possible. While this is always a good goal, it's more essential than ever for long-term success of our marketing efforts on the platform.
How to Beat Instagram's Algorithm for Top Placement
If you want to maintain high levels of engagement on Instagram, you need to know how to beat Instagram's algorithm. There are three key ways to do this.
Identify Top Content
The first is to identify your top performing content, which you can do with analytics tools like Metricool. By identifying top content, you can start to track trends of makes your top content so high performing. You might notice patterns in certain hashtags (like industry specific hashtags vs. broad appeal hashtags), different types of posts (announcements vs. tutorials vs. user generated content), and different visual formats (like video vs. image vs. multi-image posts).
Track these trends over time, and see what gets you the most comments and likes both together and separately, and create content that's similar to your best posts to ensure continued engagement.
Post at Peak Times
You'll also want to post at peak times; posts that get an initial surge of engagement right after they're posted will stay floating around the top of users' feeds for longer. This helps your visibility significantly, which encourages further engagement; it's a powerful combination that gives you continued momentum instead of sending you further and further down users newsfeeds.
Since posting at peak hours will help you get that engagement as soon as possible, this is the very best strategy we've got to stay at the top of users' feeds in the current Instagram algorithm.
Peak posting times will vary for every business; a college bookstore, for example, would almost certainly have an audience with very different peak hours than an audience from a chiropractor's office.
You can use Metricool to see your Instagram audience's peak hours online. You should also check what time zone the largest majority of your audience falls in; this will help you optimize results.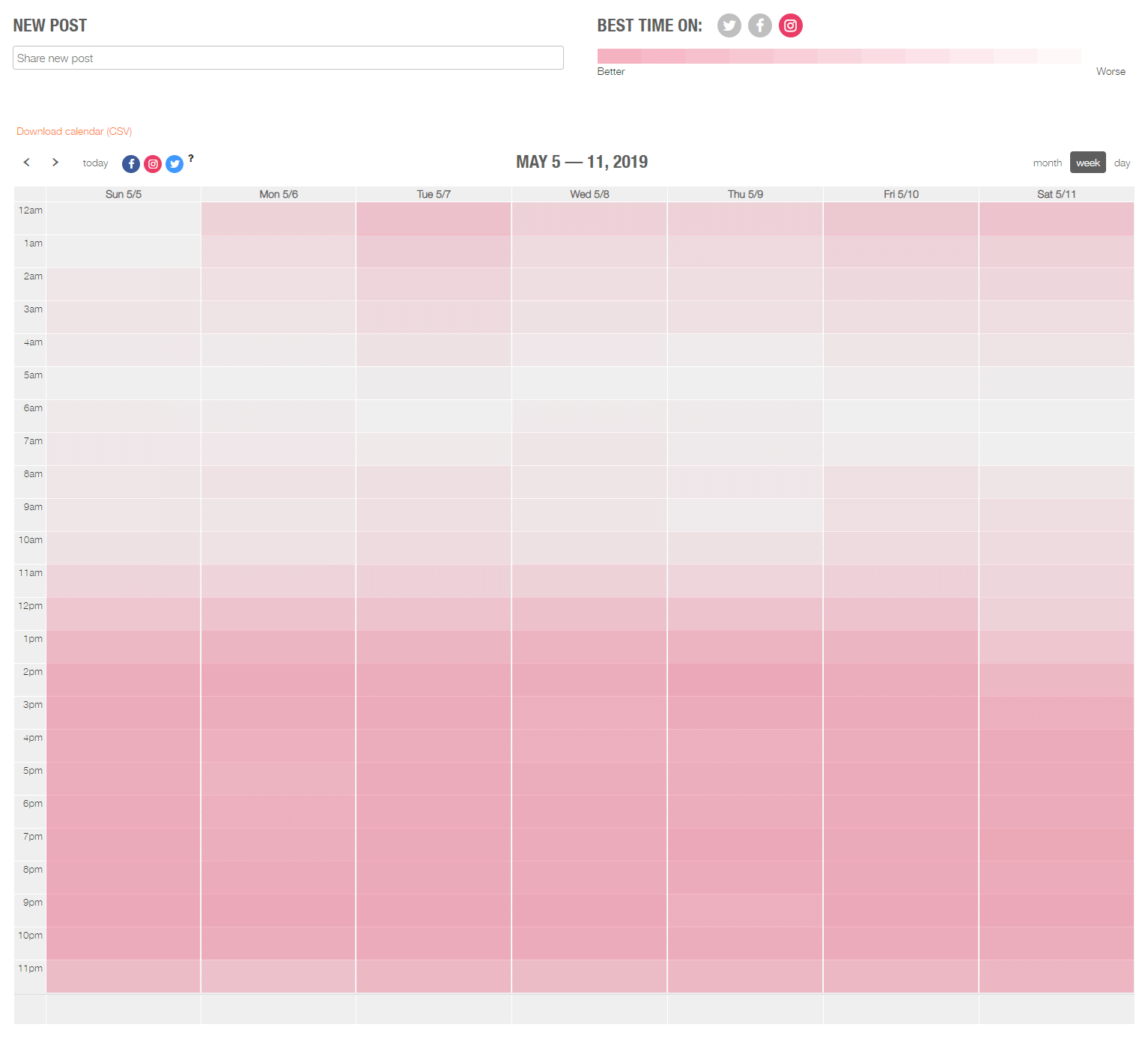 Create Posts Designed to Generate Engagement
Finally, you should create posts that that are designed to encourage engagement. While we want all of our posts to get engagement, some are more optimized for it than other, especially considering that some are designed to get sales instead.
These posts can ask questions, ask for users' opinions, or encourage users to comment or even tag their friends. You want to be careful with this last one—you can technically ask the question "do you have a friend who would love our gym?" but you can't directly ask users to tag their friends in irrelevant posts, at least not in Instagram contests.
 🚩Conclusion
While Instagram's algorithm hasn't had the same kind of apocalyptic effects that Facebook's has had for businesses' organic reach, it still matters and must be taken into consideration when creating content.
If you want to get eyes—and engagement—on your posts, just follow the steps outlined in this post and you'll be just fine. The key is to get a surge of engagement as soon as possible after posting, which will keep you at the top of users' feeds instead of sinking into Newsfeed oblivion.
🚩 Discover here everything about Instagram Marketing Guide 🚩
Want to get ahead of Instagram's algorithm? We can help you  find your most engaging content. Get started now!