What's Google My Business? Is the perfect ally for local stores and businesses that offer services in a specific area.
And, even better:
It is free.
Keep reading to discover how it can help you.
What's Google My Business?
Google My Business is a free tool created by Google to help businesses to rank high on the Internet and attract customers.
This tool allows physical stores and businesses to stand out on Google searches. These businesses will show up in the first results without even having a website.
The local results that are shown when you are searching on Google, are the result of business listings created on Google My Business by users like you. Look at this example: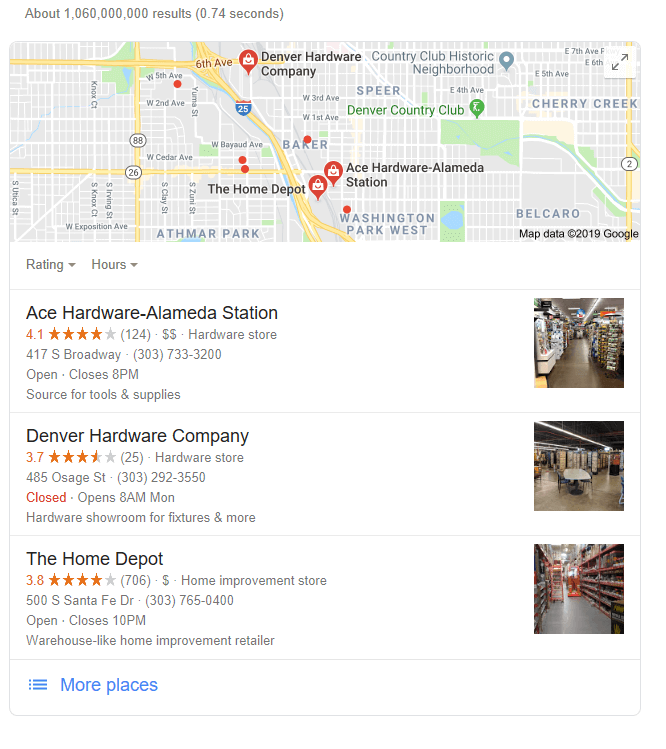 If you are looking for a hardware store, the first thing you will see is the local businesses near you, even before Google's organic results. If you click more places, all the stores with Google My Business cards situated close by your current location will be displayed with reviews and indications of how to get there.
Basically, Google My Business enhances the visibility of local stores and businesses and, assists users in finding what they are looking for in a specific area.
❓ However, … How does Google know which businesses show me?
Google knows the geolocation of your mobile phone if you have it activated. On the other hand, if you are searching from a computer, it will know where you are through your searches, your Google account and the IP where you are.
If you have a local business or provide a home delivery service, is it worthy to use Google My Business?
The answer is a categorical "yes".
Pay attention to all the things this tool can offer you:
Showing up on Google without a website.
Being found fast by many potential customers who are searching for the type of services you offer.
Appearing on Google twice. Through your card and through your website.
Being able to post offers and events that will be displayed to whoever searches your business name.
Allowing users and Local Guides to add reviews, images and photos of your business.
It's all advantages!

More information about managing Google My Business with Metricool by clicking here.
What Google My Business is for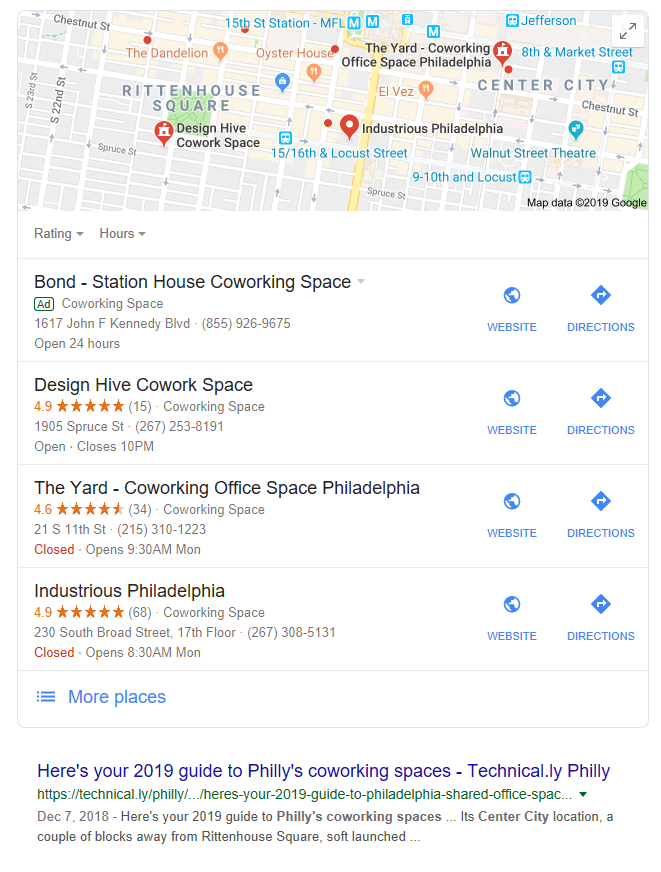 Now that you know what Google My Business is, we should go deeper and learn how to use it to your advantage.
Google My Business helps you manage and organize the visibility of your business on Google. It used to be unthinkable that a small local fashion store could appear on Google above the most popular fashion stores. Now, thanks to the geolocation on searches, it is possible. This means that this tool also helps to improve positioning.
So, what can you do with Google My Business?
It allows you to:
Add photos of your business,
Contact your customers directly,
Reply to questions and reviews,
Manage your business info,
Check key insights about your business and website,
Create offers and posts.
All these possibilities will facilitate the growth of your digital brand and manage your reputation on the Internet.
How to open a GMB account
As easy as clicking this URL https://www.google.com/business/ and tap "Manage now".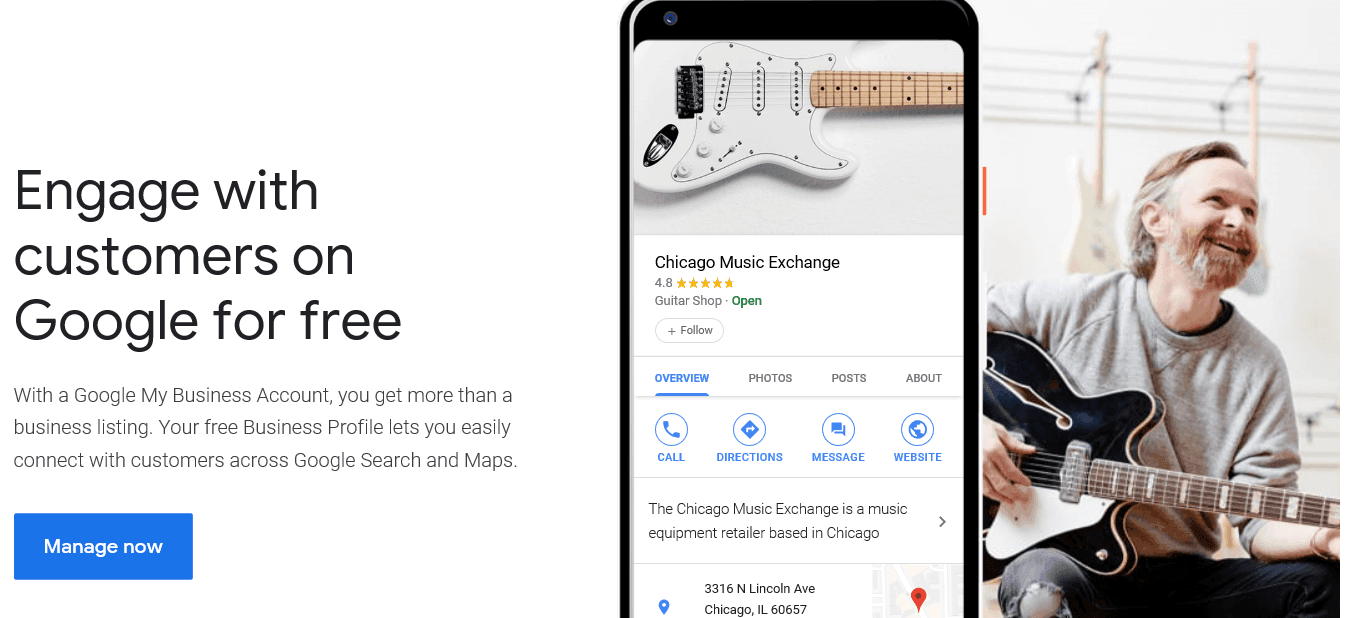 Then, simply follow the steps provided by Google My Business.
✅ Business name
✅ Location
✅ Business Category
✅ Etc.
How to increase your visibility on Google My Business with Ads
Once you have a Google My Business tab, your business will appear on the Google map.
You can reach more audience and get more customers by advertising on Google Maps, this will bring you more benefits…
⏩ In addition to the physical visits to your business will increase visits to your website and improve your SEO.
⏩ You will gain visibility and brand recognition.
⏩ Clients will have an easier option to contact you.
With Google Maps ads you will gain many potential customers that right now go unnoticed in front of your store.
Through Google Maps ads you can get that missing visibility.
If you are interested in knowing how to make these ads step by step to achieve your goals I leave you a guide…
Google My Business with Metricool
With Metricool you can organize and manage your local Google My Business and SEO strategy.
⭐️ Analyze your Google My Business file
⭐️ Plan publications
⭐️ Download reports on your performance
Want to know more about what's Google My Business?
Here you have all the tutorials developed to stand out, get customers and succeed in Google My Business.
➡️ How to open step by step your Google My Business card
➡️ How to optimize your Google My Business profile
➡️ What publications are and how they influence positioning within Google My Business
➡️ Google reviews and how they affect your positioning
➡️ How to add Google reviews to your website
➡️ How to see my Google My Business reviews
➡️ How to create Google My Business reports
➡️ How to contact Google My Business
➡️ How to add multiple locations on Google My Busines
➡️ How to get followers on Google My Business