Facebook has immense selling power, even in its natural organic posts. It's no surprise that this would translate well to on-Page direct selling.
Did you know that you can actually set up an actual shop right on your Facebook Page?
If you're looking for a new avenue to promote your products (which marketers always should be), you should consider adding a Facebook Shop to your Page. It's incredibly easy to do, and comes at no added cost to you. In this post, we're going to look at why you should be using a Facebook Shop and how to set one up.
Why You Need a Facebook Shop
Setting up a Facebook shop is shockingly easy, and it offers an enormous range of benefits to businesses who are selling directly to consumers. For starters, it gives you a whole new platform to promote your product and introduce it—in detail—to new customers. This increases the visibility of your products and your reach.
Facebook Shops also don't cost anything, unlike other platforms like Shopify. If you want to sell on more sites but don't want to spend an arm and a leg doing it, this is a great option for you.
How to Add a Shop Tab to My Page
If you don't already have one, adding a Shop tab to your Page is extremely easy. Just click on settings, and then "Edit Page".

When you scroll down, you'll see "Add a tab".
Click on "Shop" to add it to your Page.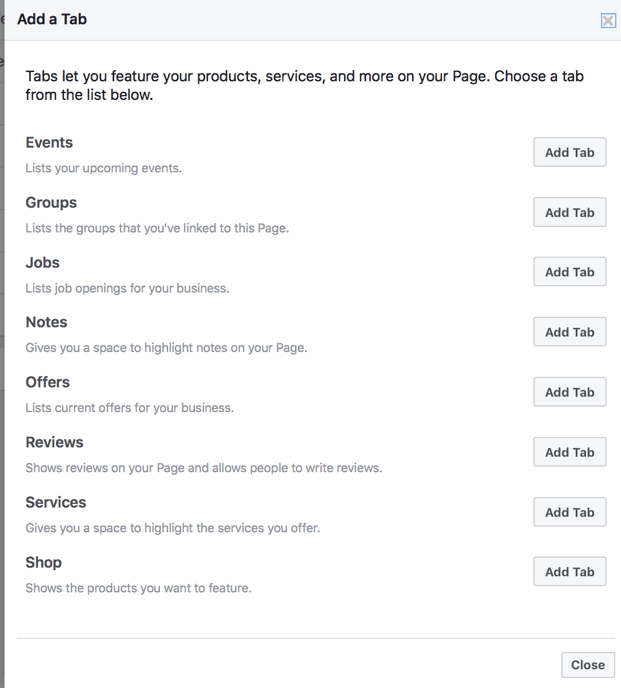 Once you do this, you can click back to your Page view to set up a Facebook shop on your Page.
More information about creating online ad campaigns with Metricool by clicking here.
How to Set Up the Shop
Once you've added the Shop tab to your Page, you'll see it listed as a tab when in the Page view. Click on it.

You'll be asked to agree to Facebook's Merchant Terms & Policies. This goes over rules about listing products, treatment of user data, deliveries, and purchase disputes. Read it carefully.
Next, you'll choose how you want users to be able to purchase from your shop. You have two options. The first is to have users checkout directly through a secure payment process on Facebook. They can purchase right from your Page and never have to go off site. This option works as a complete virtual storefront.

The second is to send users to another site (like your main site, or a Shopify or Etsy store) to complete their purchases. This option is better when you only want to increase visibility.
If you choose to have users purchase directly through your Page, you'll need to fill out business information, including your business address. You'll also need to connect to an existing Stripe account (or create a new one) to process payments.
If you choose to have users purchase through another site, you'll just need to list what type of currency you use.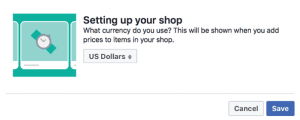 Once your shop is created, add a description to tell users what you sell and what type of shop you are.
How to Add Products to Your Facebook Shop
From your Shop tab, you'll see the prompt to "Add Products". Click on it.
You'll be able to add product images and videos, the product name, its price, a description, and a checkout URL (if you're sending users to purchase from another site instead of directly on Facebook).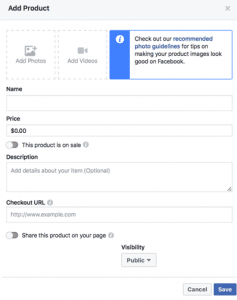 If you ever want to run a promotion, you can click the "This product is on sale" slider and enter in the temporary sale price.
If you place a product on sale, it will show up as being on sale in the shop, which can help you drive more purchases. Who doesn't love a discount?
You can group your similar products into "collections," helping to facilitate more purchases and keeping your shop organized. Just click "Add Collections".
Next, you'll select "+Add Collection" to create a new collection.

You'll be asked to name the collection, and then add products to it. To do this, click the "+Add Products" button and then select the specific products to add.
Once you do this, you can reorder the products so that you can have featured products showing up first.
What if I Don't Sell Products?
To all my consultants and service providers out there, I hear you asking "what if I don't sell products?" You can set up a Services tab (or list your services as products) on Facebook instead.
To do this, you'll follow the instructions, only you'll add a "Services" tab instead of a "Shop" tab.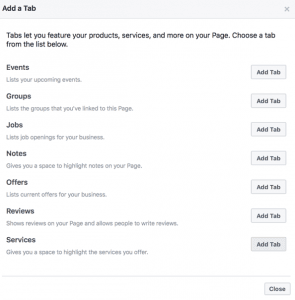 If you choose to use the Services tab, you'll just add the name of the service, description, price, and an optional image. There won't be any way to check out or drive sales directly, but it can still give users the information they need on platform to know that they want to hire you.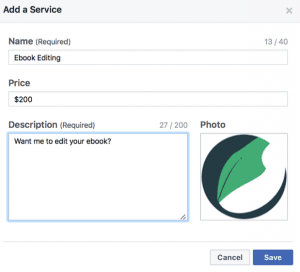 Your services will be listed, one after another, in a clean, simple organization once you've created them. You can drag them to reorder them, placing your most in-demand, requested, or high-paying services first.
How to Tag Products & Services in Visual Content
To give your products and services—and your Facebook Shop— some extra visibility, Facebook allows Pages to tag products and services in the Page's visual content. This even includes your cover photo and profile picture.
Click on the picture that you want to tag products in; in this example, it's my Page's cover photo. Select the option to "Tag Products",
Click on the area of the picture that you want to tag. When you go to type in the name of the product, Facebook will show you your list of currently uploaded products and services.
Once tagged, your products will show up in a "Products Shown" label above where users can like, share, or comment the photo. If users click on the tag, they'll be taken right to the product or service page, where they can check out and purchase immediately.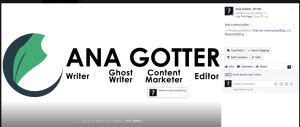 Final Thoughts
Setting up a Facebook Shop is a fantastic opportunity to get some extra visibility and promotion for your products and services, as well as potentially increasing sales. This is true regardless of whether you choose to sell directly from Facebook or send users to your site, and some extra visibility is never a bad thing—especially when it comes at no added cost to you.
What do you think? Do you have a Facebook Shop on your Page? How has it worked for you? Leave us a comment and let us know what you think!
Want to know more about how to create a Facebook strategy?