▶️ What is TikTok?
Is a social platform for mobile devices, both Android and iOS, where you can share short videos that last between 15 to 60 seconds maximum.
On this platform, users can share any type of videos with music, voices from movies, famous actors or even with your own voice.
The chinese company ByteDance is the founder of TikTok and other successful apps, such as Lark. However, none of them has reached the level of TikTok. The app appeared in 2018 after Musical.Ly was sold to ByteDance. It started as Douyin and was only available in the Chinese market.
In a nutshell… TikTok is music and video at the same time. 
Who mainly uses TikTok?
TikTok is the new phenomena for social networks and everybody wants to join.
This platform has around 800 million monthly active users according to the data shown on 'Datareportal' website. And it doesn't seem that it will hit a growth ceiling.
TikTok is for all age ranges. 60% of users are between 16 and 24 years old and 26% between 25 and 44 years old. 60% of users are female and 40% male.
However, what makes this platform that special? Will it be able to oust giants like Instagram or Facebook?
Is TikTok only a video with music? The truth is that it goes beyond that.

Connect TikTok with Metricool to schedule, analyze and see the performance of your ad campaigns.
TikTok's success
I could summarize that the main reason for TikTok's success is due to its fun videos. However, there is much more behind its popularity.
Let's try to explain its boom while we explain why you shouldn't wait to create a TikTok account.
1. Amusement in its purest form
Good content is crucial and TikTok knows this well. On this app, you can find all types of videos where entertainment is guaranteed.
Users come to have fun. It offers different types of content: challenges to do alone, with someone else or in a group with music or sounds, impersonations of actors in movies or songs, voices and sounds of your own.
A wide range of options to choose from to keep you busy.
Brands use TikTok to show their closest and most human side. It's a way to connect with potential clients in a more casual environment.
Brands such as Nike or Bershka have bet on this format to interact with users through influencers or personalities who are the image of the brand.
2. You can spend your day on TikTok
TikTok has an algorithm that shows videos in line with your interests, which creates a loop of content that is hard to leave behind.
You can create your own community by choosing the accounts that you are interested in following. You can also look for trends and discover what's happening on TikTok, such as the most popular hashtags or trending topics.
If you are not yet convinced about creating a TikTok account, you can still access its content.
A user spends an average of 52 minutes per day on TikTok app.

Is this enough to be at the same usage level of Instagram or Snapchat? The answer is yes. Users spend a daily average of 53 minutes on Instagram and 49 on Snapchat. While TikTok keeps growing, Facebook still leads this ranking with 58 mins of usage per day.
3. Interact with all users
You can create your own community, choose who you are following and check who follows you, like videos or comment on any type of content.
Also, you can share videos that you like and check the music used in any specific video so you can use it for your own content.
We could say that this is a self service where yours is mine and mine is yours.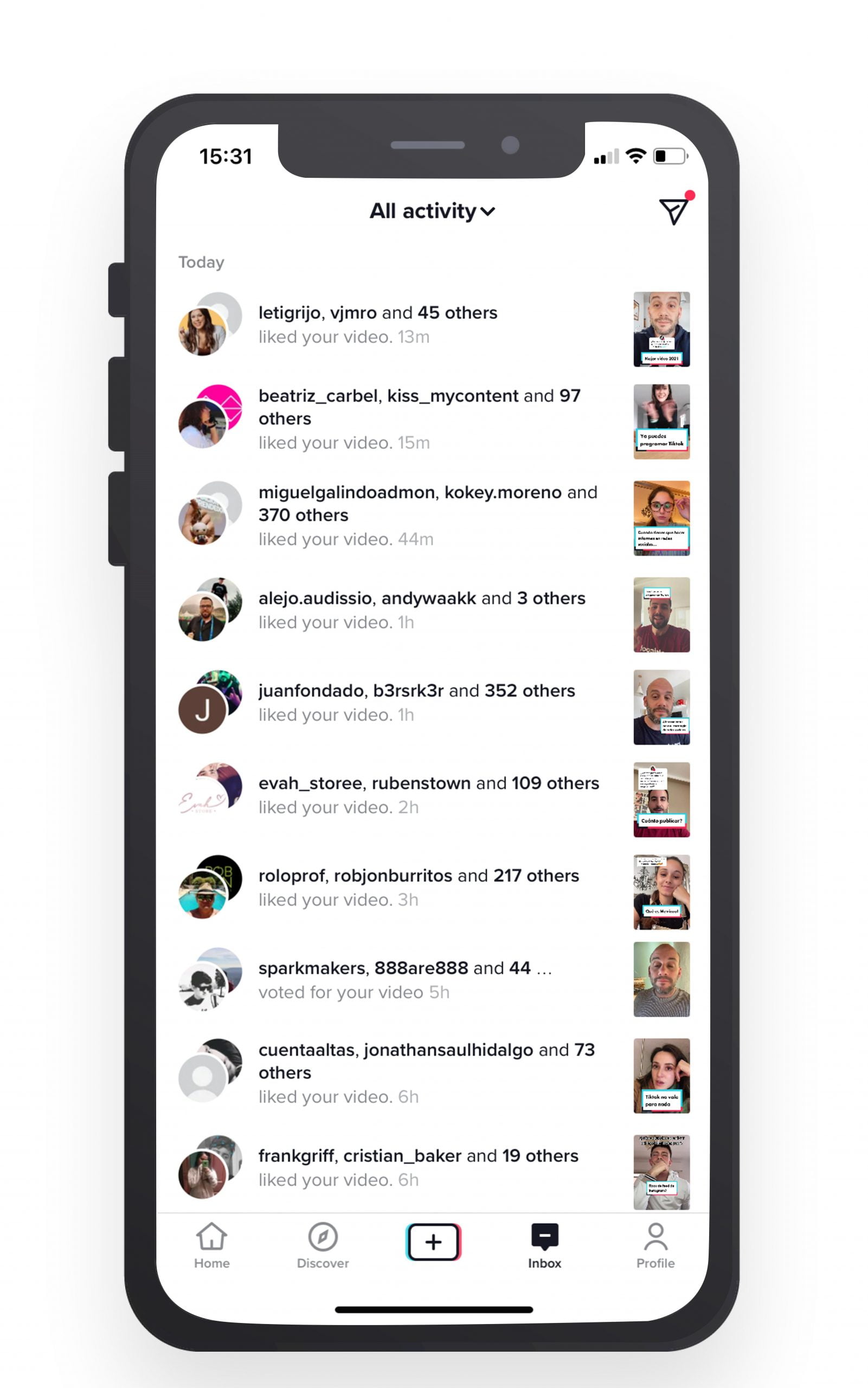 4. Easy to use
Do you think that you are too far behind the times to use this app? Don't worry because TikTok is easy and for any type of users.
It has an easy-to-use interface to avoid users getting lost: a screen where you can watch the videos, a button to upload your videos, an icon for your profile and another button to see your notifications.
In barely 5 minutes you will get the hang of the app.