Probably when you heard about TikTok the first time, or someone suggested including this social platform in your marketing strategy, the first thing that came to your mind is that dancing was not for you.
However, on TikTok, there is room for other types of content. Today we'll show you how TikTok can help your brand or company gain visibility and the benefits it can bring you for your inbound marketing strategy.
TikTok for brands: advantages
TikTok has become the seventh most used social network in the world. It is among the 10 most downloaded apps in the last year and has over 400 million active users. Also, you will probably be impressed by the following data that might change your opinion about this social platform:
This social network has ousted Twitter.
TikTok users use the app for an average of 60 minutes a day.
TikTok has a presence in more than 100 countries around the world.
During several months of 2020, it was the most downloaded app.
So if I have already convinced you of the advantages of being on TikTok, we will continue with how you can achieve it.
Strategies to gain visibility on TikTok
Now you know that TikTok has many advantages for your brand and can help you gain visibility and attract users to your profile. But this is like everything. To achieve your goals, you need strategies, so let's get started.
Join the TikTok trends
If you have already used it, you will know that it is a very dynamic social network where trends are crucial. Join the trends of the moment through the hashtags. You will gain visibility with your account.
Use hashtags related to your content
As in any current social network, hashtags are an essential part of the content. Add to your videos the tags that best fit your brand and each of your posts.
Pay attention! Make sure to use the hashtags that go in line with your content strategy. Not using popular hashtags will help you get more visibility if your video is not related to that tag.
Create adapted content
When you get on TikTok, it seems that you will only fit in if you dance or do challenges. But as you read this article, you will realize that many brands from different niches have adapted their content without doing a single dancing challenge.
The content format is short and direct videos. So you can easily adapt any theme:
Give tips on your sector
Answer frequently asked questions about specific topics
Tell stories
Post frequently
The TikTok algorithm generates the most organic reach and rewards all types of content creators. It doesn't matter when you've posted a video that may go viral three months later.
Do not give up and create content so that those who enter your TikTok account see that you are active on this platform.
TikTok by sectors
Here you will find some valuable examples to see how there are accounts from different industries and niches positioning themselves on TikTok. And surely more than one will surprise you.
Financial or economic sector
Yes, the financial industry also has a place on TikTok, and if you don't believe it, look at this Eneko Knorr account with almost 100K followers.
He has managed to position himself in the financial sector within TikTok by offering advice, commenting on typical mistakes, and talking about the economic news.
Beauty Sector
A great example is the @sephora brand. Use TikTok to attract a larger audience by adapting your brand and its content to the essence of this social network.
Press and news
Newspapers are a type of traditional media that need to reinvent themselves. More and more people are looking for information on the internet and consequently, buying fewer paper newspapers.
This is why The Washington Post has decided to launch themselves on TikTok, and they are close to getting one million followers on their account.
They adapt the news to short videos.
They use the humorous tone of the platform.
They take advantage of all the resources that TikTok offers.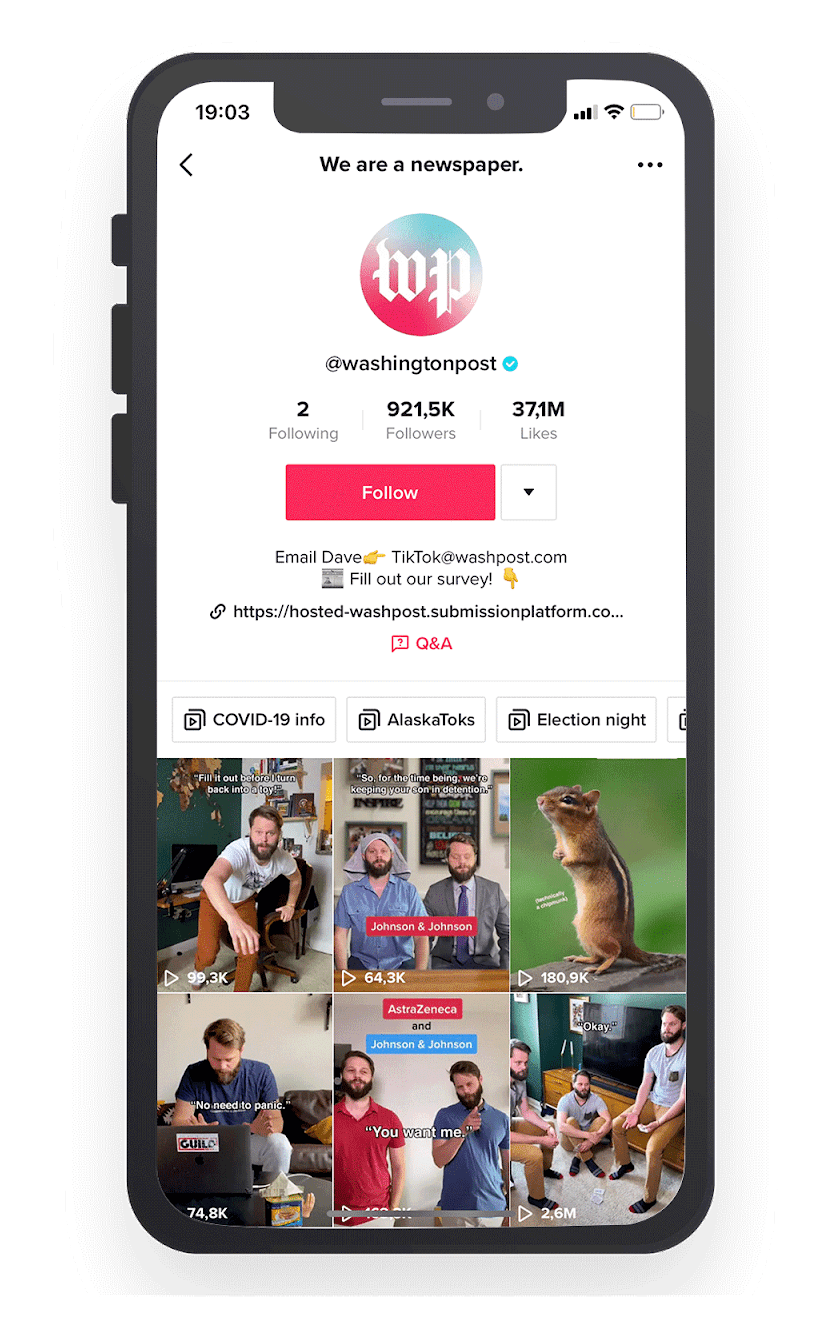 Fitness on TikTok
Indeed, TikTok is not just videos of people dancing or doing silly things at home. Each brand can fit into this social network by adapting its content.
Look at the @demybagby account, a fitness space where she talks about sports in a personal way and shares interesting videos with her audience.
Digital Marketing and entrepreneurship
Although it might seem a bit odd at first, after seeing how the financial sector has a great success on TikTok, there is also a place for digital marketing and entrepreneurship on TikTok.
Some of the most potent hashtags on TikTok are #LearnwithTikTok, or #Learn + the theme. That's how easy it is to fit your theme, and many brands in the marketing world do this.
This is the example of Rachel Pedersen, who gives practical tips and uses trends.
Technology and apps
On TikTok, you may not get much impact if you only post videos with your products.  However, you can gain a lot of visibility by focusing more on your product's benefits than on its own characteristics.

I give you the example of a brand that everybody knows: @apple. This brand doesn't try to sell its products directly but tries to show the customer what they can do with its products. In fact, it has created a hashtag to promote user interaction: #AirPodsJump.
What do you think about all the advantages that the TikTok world can bring to your brand? Do you think your brand could fit in?
What can you get with TikTok?
Apart from gaining visibility and positioning yourself as a benchmark in TikTok's new world, having a presence on this social network can help you achieve many other things:
You will have the possibility to build an online community.
Thanks to the TikTok algorithm, you will have a better chance of improving your reach and going viral with your videos.
You can humanize your brand, and right now, there is no better social network for this than TikTok.
Are you up to starting your own TikTok Marketing strategy?  We'll read your comments.