If you are a streamer or viewer on Twitch, you most likely have heard of the term Prime Gaming.
We'll tell you in this post what Prime Gaming is, what it consists of, its advantages, and how you can link Twitch with Amazon and benefit from it.
Connect and hit play!
What is Prime Gaming
Prime Gaming, formerly known as Twitch Prime, is a paid streaming platform service included in your Amazon Prime and Prime Video subscription.
This subscription improves the experience both for the streamer who creates content and for the user who watches Twitch streams.
To be part of this experience that Amazon offers you with Twitch. First, you need to be an Amazon Prime subscriber.
Once you subscribe, you will have access to Prime Gaming and all the service's advantages: fast delivery, product offers, etc.
What can the Prime Gaming service contribute as a streamer or viewer? Keep reading, and you will know.
Prime Gaming benefits
If you're still thinking about whether to subscribe to Twitch's Prime option through Amazon or not, you should keep in mind the benefits that it could bring you.
Whether you are a content creator or a viewer of the platform, you will find exciting all the advantages:
Free subscription to any Twitch channel.
One of Prime Gaming's main advantages is the possibility of subscribing to any streamer channel that is an affiliate or partner of the platform.
You'll enjoy chat privileges only for subscribers, avoid slow mode, get subscription badges or emoticons.
Access to free games.
When subscribing to Prime Gaming, you will have access to a particular catalog of games to enjoy.
This catalog updates every month, offering different games each time and varying an already interesting catalog.
Live content and chat.
With the subscription to Prime Gaming, you get exclusive emoticons of this service, such as KappaHD or ScaredyCat, and you can choose the color of the chat to personalize it.
Also, the subscription includes a unique badge for Prime members, highlighted in the streaming chat with the crown icon. .
Longer storage time for emissions.
If you are a streamer, you will have noticed that your broadcasts disappear from the platform after 14 days of storage.
By becoming Prime Gaming, your streams will be available on Twitch for up to 60 days after broadcasting.
Access to gifts and loot for games.
In addition to having access to free games, with Prime Gaming, you can get extra content for the different games and give them away to your community.
It will help you increase and improve your relationship with your community.
These are the advantages of being part of Prime Gaming. As you can see, the benefits are for both streamers and viewers.
Even if you are a streamer, it can come in handy to subscribe other channels that interest you and take advantage of Prime Gaming.
Now that you have decided to join, how can you do it?
How to access Prime Gaming
The process of connecting this service is straightforward. Let's see how to do it step by step:
Access this link https://gaming.amazon.com/intro, the official Prime Gaming page
Click on Try Prime to start your 30-days-free trial, where you will have access to the free month with all the service benefits. Then you will have to pay the corresponding price.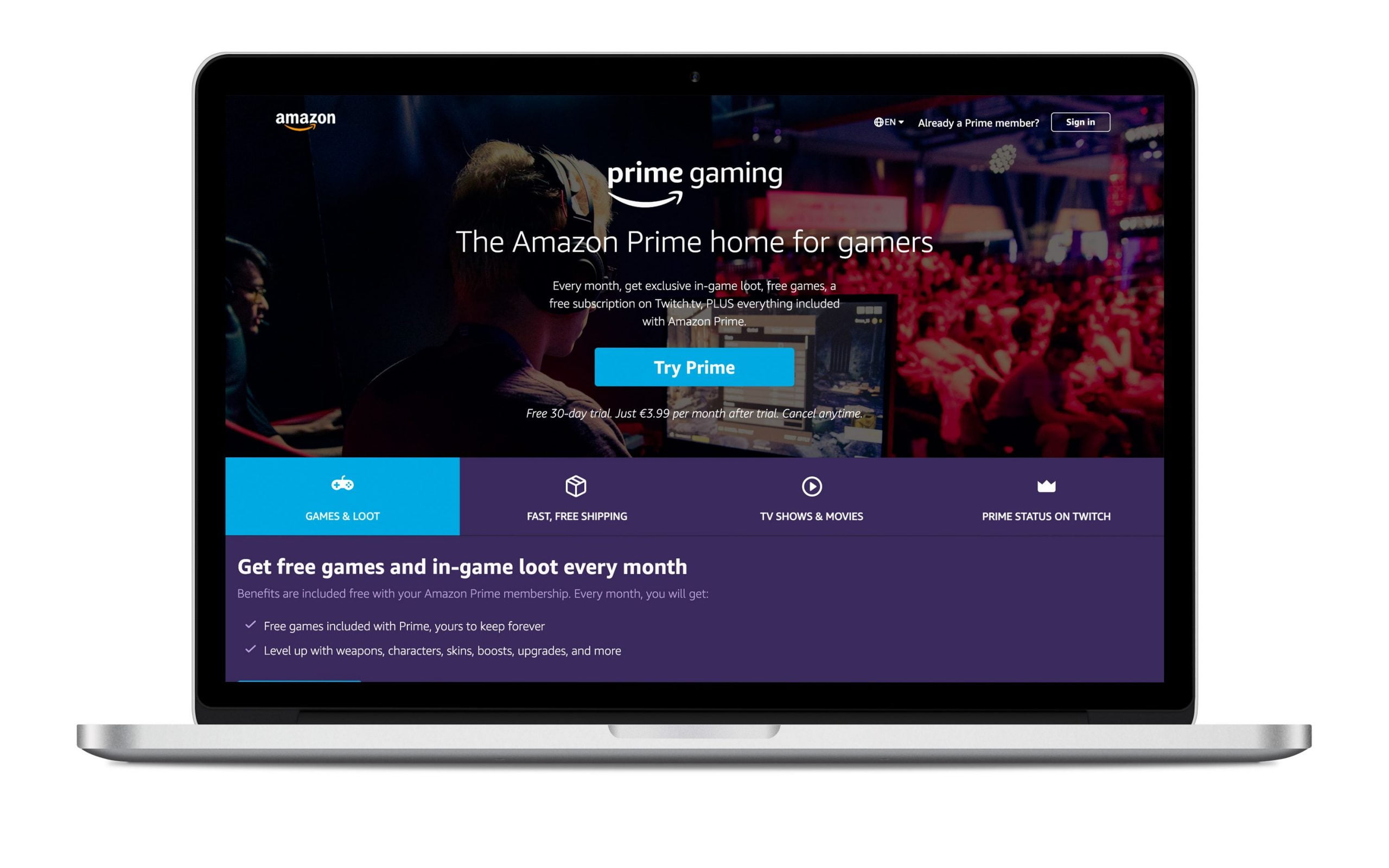 Log into your Amazon account, then log into your Twitch account and confirm that you want to link both accounts.
You can also do link both accounts from Twitch. Log in and click the button on the top right, shaped like a crown.
Then tap on Start your free trial and follow the steps above.
Finally, review the personal information you have added and select Start my free 30-day trial.
It's official. You are now a Prime Gaming member!
How to unlink your Prime Gaming account?
By clicking on this link, you will be able to unlink your Amazon and Twitch accounts.
Everything is ready for you to join Prime Gaming and start enjoying the benefits of this Amazon and Twitch service.
For more tips on Twitch:
If you have any questions, we'll read your comments.